Did you know you can turn your life around with crystals for good luck?  
Strange as it may be to believe, millions and myself included keep a strong faith in the healing powers of gemstones. More specifically, the good luck gemstones. These are pieces refined crystals taken from Earth's most treasured rocks, often found beneath the soil or in deep caves.
Each stone for luck has its own unique properties and crystalline structures.
Best Crystals for Good Luck:
Here we enlist 10 lucky gemstones of 2019 that are predominantly on the high when it comes to successful and happier lifestyles after adopting them:
If you're still not sure about how these good luck crystals work then read more information here
1
Malachite (Stone of Transformation)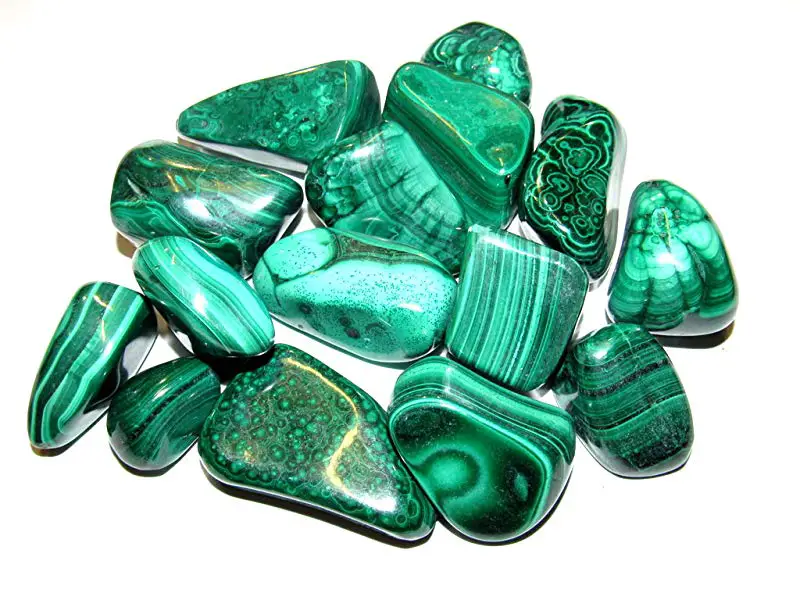 Main attributes of Malachite:
Color: Green
Origin: Russia, Middle East, Romania, Zambia, Germany
For confidence, transformation, self-esteem
Malachite is a beautiful crystal for luck, which different shades of enigmatic green making beautiful patterns all over the stone. To some, it is known to be the most powerful gemstone for luck one can have since its crystalline structure emits incredible amount of vibrations.
These powerful vibrations can bring luck and fortunes which won't be limited to your body but your overall life as well.
As its chakra is heart and throat, this stone of luck can bring peace to the heart and audacity to your throat which will make you express yourself in truest form possible, without fearing anyone's judgments. This is the best of all lucky gemstones that can bring you unshakable confidence.
But beware, since the vibrations of the stone are so strong, it has an equally effective negative energy if you're dishonest or careless with the intentions of the stone for good luck.
Our tip for using Malachite:
Since the stone can bring incredible amounts of confidence, it can be great to have it with you on job interviews, presentations or anything that requires you to be at your best!
2
Citrine stone (Lucky Merchants Stone)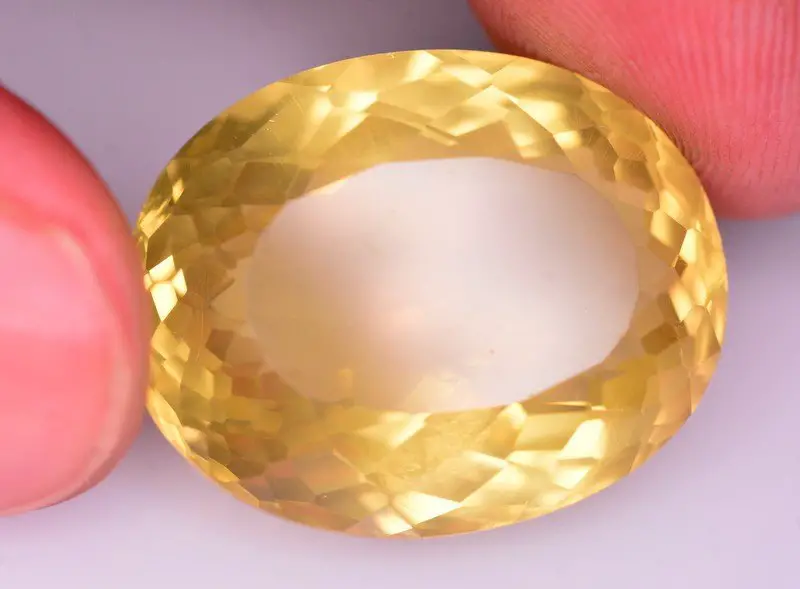 Main attributes of Citrine:
Color: Gold/ Honey
Origin: Brazil, Madagascar, France
For wealth and financial success
Citrine is a stone that embodies a beautifully vibrant gold color which signifies exactly that, gold. In other words, Citrine is widely known to bring people wealth and financial success, which is why it is one of the most demanded stones for luck. Like Malachite, this too embodies the incredible amount of energy and vibrations that can have a significant impact on one's life.
Not only it brings wealth into your life, but it also brings you the knowledge of generosity and spending our gift of wealth wisely.
It is often dubbed as a powerful fortune stone that carries the power of the sun and is the stone of abundance.
Our tip for using Citrine:
Keep the stone near or in the box or safe that locks in your wealth. To make your business shine, keep the stone at your office's desk to amplify the energy into your business.
3
Green Aventurine (Stone of Opportunity)
   Main attributes of Green Aventurine:
Color: Green
Origin: India, Brazil, Tibet, Nepal
For luck in almost every situation, but mostly in competitions
Green Aventurine is the people's favorite fortune stone for a very simple reason: it brings luck instantly for any situation. Since the stone's properties bring a stroke of "immediate luck", it can be used in various competitions to have an advantage over your opponents, that advantage being the force of nature with you. Which is why it is the most beloved of all lucky gemstones.
The name for this luck crystal comes from the Latin word Aventura, which means chance.
So bring this anywhere you want to win and the force of nature will make sure that you do!
Our tip for using Green Aventurine:
Keep the stone in your pocket or your purse when going for a lottery or anything that requires competition. The blessings to the stone will make sure you win in any wise situation you put yourself to.
4
Tourmalinated Quartz (Stone of Power)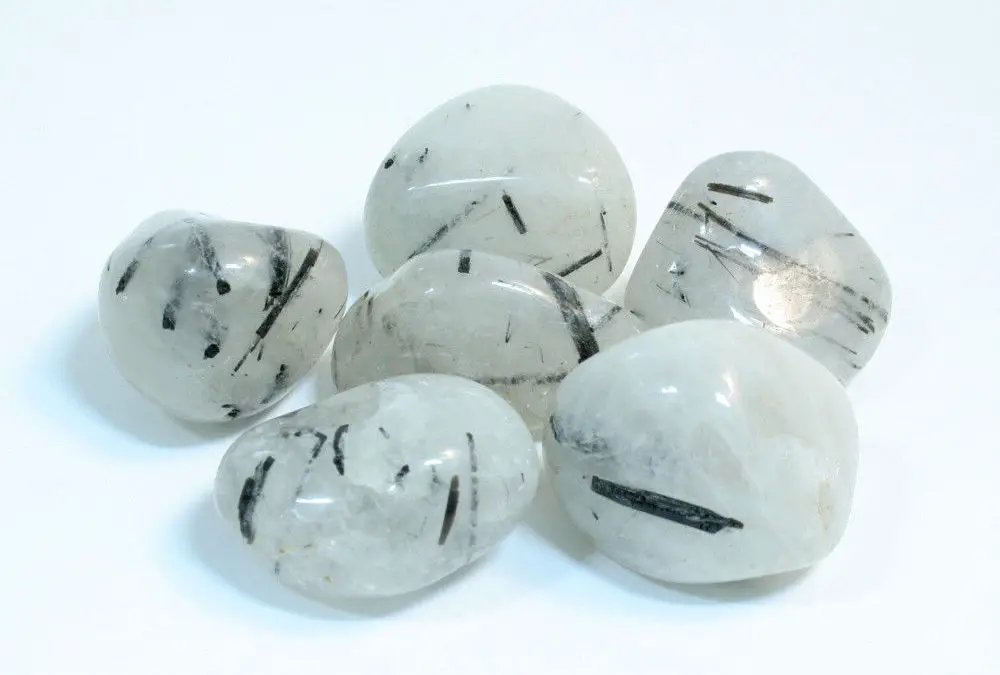 Main attributes of Tourmalinated Quartz:
Color: Mostly clear with dark lines embedded onto it
Origin: Available worldwide
For power and wealth
Tourmalinated Quartz is one of the few crystals for luck that is available almost everywhere on the planet. So having this one won't be entirely difficult and will be significantly cheaper than most of the other gemstones for luck due to the same reason.
If the chakras of this stone are concerned, they are Third Eye, Root, Heart, Throat, Solar, Crown. The preceding chakras for the stone suggest that this stone undoubtedly has one of the most powerful attributes.
This stone will help you have strong willpower and success in wealth at the same time. Not only that, the amplifications coming out of the stone will greatly influence your lifestyle, making you less stressful.
Our tip for using Tourmalinated Quartz:
If you can, have this stone on a ring and wear it every time you go to work. The power of the Quartz will make you invincible to any evil and misfortune that will be come your way.
    Main Attributes of Peridot:
Color: Green
Origin: Mexico, China, Brazil, Sri Lanka
For tranquility and wealth
Peridot might be the most beautiful stone of luck that comes in green. Almost translucent, the diamond-like shape of the stone shines brighter than anything in the room, which goes the dame for its powers.
Peridot might not be the most talked-about fortune stone out there but it is a very powerful stone to bring luck. Due to its color and the crystalline structure, the stone brings tranquility to the beholder of the stone.
It has the power to open up your heart and bring in tranquility by being wiser and connecting yourself to the divine forces. Once you grasp them, you will find yourself in complete mindfulness, where every step of the way, you will be in the present and nowhere else.
Other than spiritual healing, this stone can also bring wealth to your life.
Our tip for using Peridot:
Make a pendant out of the Peridot crystal for luck to have it worn everywhere you go. The blessings of the stone will keep you in its shield from all evil outside.
6
Labradorite (Stone for Serendipity)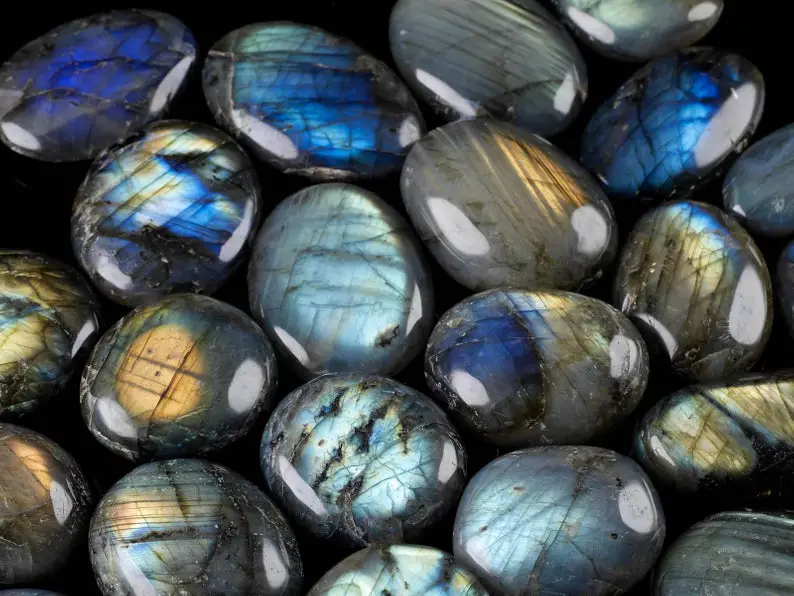 Main attributes of Labradorite:
Color: Beautiful gradient to blue, black and yellow
Origin: Russia, Italy, Scandinavia
For relief from stress or breakout
Arguably the most beautiful good luck stone on our list, Labradorite is found in only three places on the globe. Made of a complex crystalline structure with beautiful shades of blue, this stone brings a big stroke of fortune in one's life, making it one of the few crystals for luck that you can rely on entirely.
The vibrations that come out of it can directly influence your wealth and mental health, bringing more luck than you could ever imagine.
But this stone works best for people who always feel stuck in a situation they think they can't escape. Be it depression or anxiety, this stone has the power to release you from that darkness and bring you back to a more mindful state of life.
It's energy not only brings positivity but it also deflects all the negative energy away from the beholder.
Our tip for using Labradorite:
Since it's one of the powerful good luck gemstones, we recommend you get a pendant for this crystal or a bracelet to keep it with you wherever you go. Its vibrations will give you luck in almost a situation where you may feel vulnerable.
7
Rose Quartz (Stone of Love)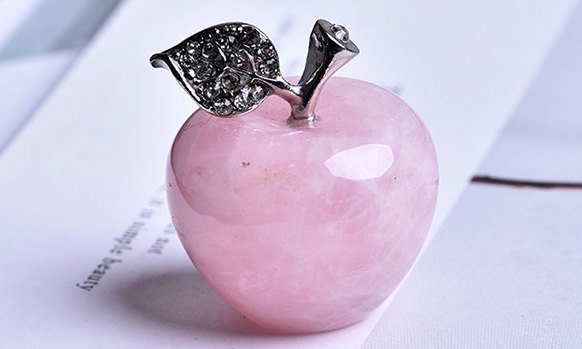 Main attributes of Rose Quartz:
Color: Pink, Flamingo
Origin: Japan, South Africa, Madagascar
For luck in love life
If you need luck in your love life, a significant other who you want to gift the best present you can or if you want to save your failing relationship, Rose Quartz is the best stone to get out of all good luck crystals we have featured.
Since most of us can't entirely control the vicious cycle of love, it is hard for us to expect good when nothing good is happening for us. But with good luck crystals, our problems can get significantly less.
The Rose Quartz stone for good luck is closely associated with Venus, the Goddess of Love. The energy from the stone can bring happiness and warmth in any failing relationship. It will bring more warmth to the existing blissful relationships, so it's best for you to grab this one with any other stone here.
Our tip for using Rose Quartz:
Since it's closely related to intimate relationships, our advice is to have it in a pendant and make your partner wear it. Another great option having it beside the bed you sleep with your spouse. This is great for any other gemstones for good luck to bring a pang of fortune your way.
8
Moldavite (Extra-Terrestrial Stone)
    Main attributes of Moldavite:
Color: Dark Green
Origin: Czech Republic
For fertility and good luck
Formed over 15 million years ago and only found in the Czech Republic, Moldavite becomes one of the most interesting luck gemstones. Due to its composition, the crystal contains a high vibration that can bring a wholesome amount of luck into your life.
The stone's age and the structure helps bring a lot of fortune, which can be great for women who struggle with fertility.
That said, the power of Moldavite is so immense that it can work with other stones too, multiplying their vibrations to bring even more luck into your life. But be careful, since too much of it can have a negative effect.
Our tip for using Moldavite:
Use the stone for luck as a pendant and have it whenever you're expecting a positive on your pregnancy test. The power of the stone will surely bring you the happiness you always wanted.
9
Amazonite (Stone of Hope)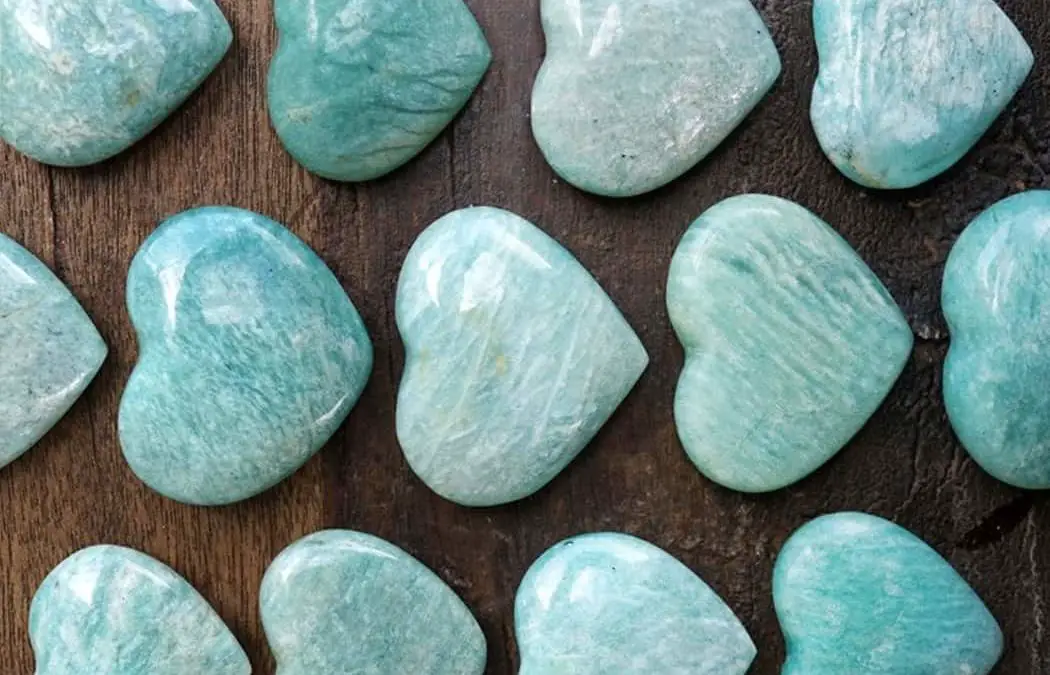 Main attributes of Amazonite:
Color: Turquoise Green
Origin: Russia, Brazil
For courage and empowerment
Amazonite is one of the most beautiful crystals for good luck that we have here. A brilliant mixture of blue and white tones, this stone can bring a lot of fortune to your life. This stone dubbed as the "hope" crystal, which means this can bring luck in the form of hope and courage to start anything new. If you've had something on your mind and you're always afraid of actually starting on it, keep this lucky gemstone with you and surely you will have success.
Our tip for using Amazonite:
Since it's a stone of hope, we recommend you get this as a pendant and wear it every day to work for good luck.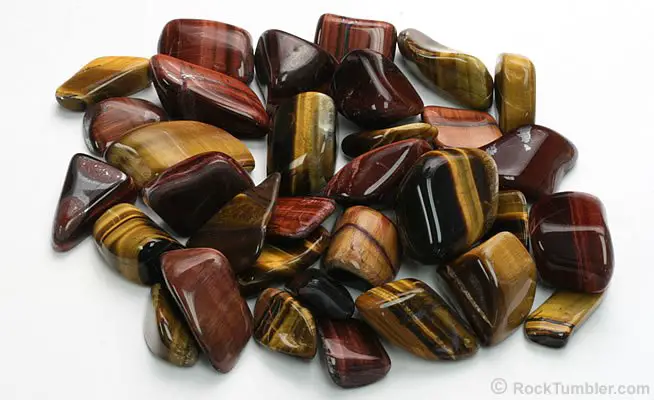 Main attributes of Tiger's Eye:
Color: Brown, Golden
Origin: South Africa, India, Burma
For inspiration and good luck
Tiger's Eye is a beautiful crystal that mainly originates from South Africa. A beautiful mixture of golden and brown strands flowing across the crystal, this could be a great accessory to own that not only brings good luck but elevates your look too. As the name indicates, this gives one the perspective and willpower of a tiger which doesn't fear anything that comes it's way. If you constantly find yourself stuck in your head, get this stone to bring courage to your life.
Our tip for using Tiger's Eye:
This can be a great pendant to own. Not only it will go with everything that you'll wear, the strong vibrations coming out of it will bring lots of luck to your side!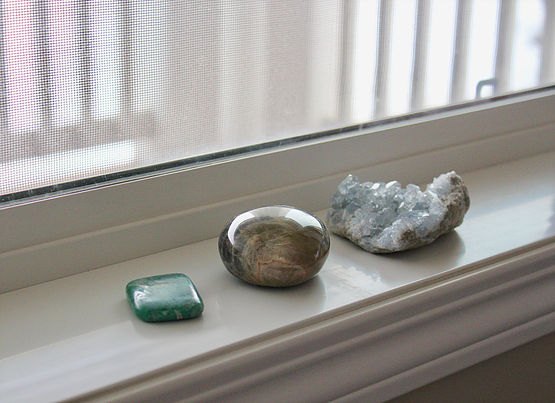 Do good luck crystals really work?
Recent theories suggest that these lucky stones may have varying amounts of effect on our lives. The crystals have a crystalline structure, which makes them amplify powerful energy. If we were to observe this phenomenon on an electromagnetic level, the energy that gets emitted from these stones is basically vibrations that fall in sync with the healing energy of the Earth. In other words, gemstones for luck share the healing properties of the Earth. So when an individual rests their complete trust in the stones, the resultant energy from the stone can bring fortune.
Where do lucky stones come from?
If you still believe these fortune stones are just any other stones that are painted and polished to seem divine, we have a myth-buster for you. All of the good luck crystals that we see around us are in fact taken from the rocks of the Earth itself. Each crystal taken from a different rock has its own unique crystalline composition and nature, which brings different fortunes to people. These lucky gemstones are then divided into various categories to help people get the stone that'll help them the most.
Which stone of luck should you get?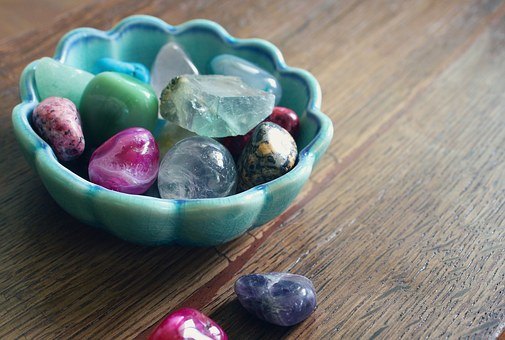 There are hundreds of classifications of crystals, each having its own composition and energy emission. So selecting a stone for luck all by yourself wouldn't be a great idea. For that, we have compiled a list that includes all of the important stones. Each stone will have a unique nature to it, which means every good luck stone brings a certain kind of luck in one's life. It could be for a romantic relationship, for financial success, to evade a deadly disease or simply to bring happiness.
There's no limit, you can have multiple lucky stones for yourself, bringing you more fortunes in the future. So have your surf around our list that we made comprehensive enough to make it clear what you're truly looking for.
Using good luck crystals to connect with guardian angels:
Since all of the occurrences from the good luck rocks are a work of nature, I'm positive that these rocks can indeed connect us to something more divine. Angels are messengers of God who offer their protection and assistance when a pleading is called. They can help us connect to God, his blessings and his divine messages through them.
But for that to happen, we need a medium to make our voices heard. For that, I and millions of others possess crystals to get our favors from the heavens themselves. This is an old practice that dates to back ancient times. And still to this day, it proves to be a strong divine force that anyone can experience.