You will agree with me when I say, 
Having diamond earrings is one of the rarest & the without a doubt, the most priceless stones in the world, and needless to mention that these are every women's favorite irrespective of their values.
Diamond jewelry matches seamlessly with anything you wear, either it is casual wear or formal attire. Diamonds are classy and add that unique look to your life.
When it's about buying high-quality diamond earrings, there's a lot more to think about than the stone's shine and appearance. When searching for the best diamond earrings, one can easily get distracted due to the abundance of choices.
Whether you're planning to buy the best value diamond earring as a gift for your beloved or you just want to treat yourself, you simply cannot go wrong with the below-mentioned diamond studded earrings!
Best Diamond Earrings 2021:
More Recommend Crystals: Best Earrings for Sensitive Ears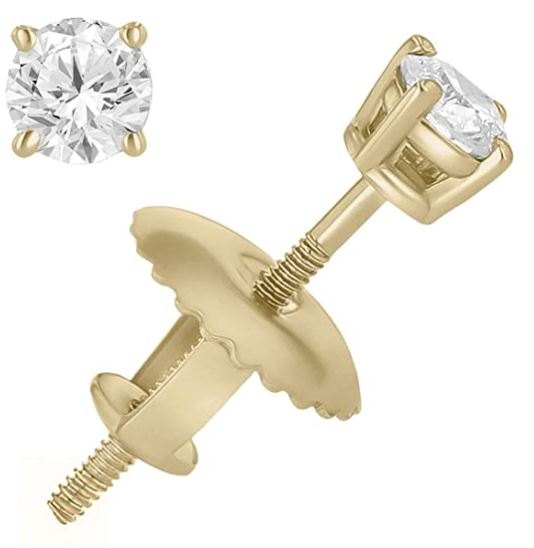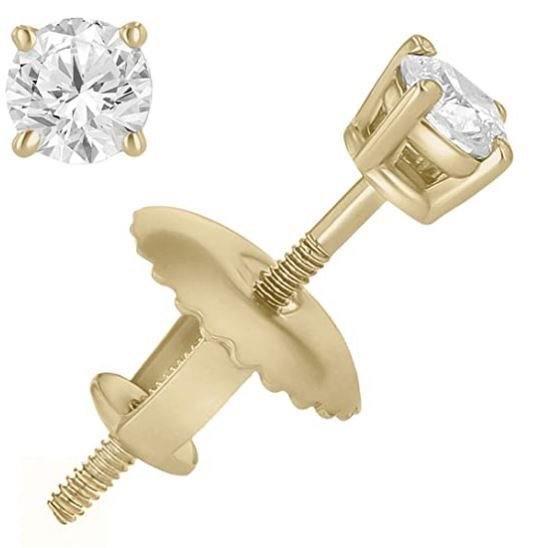 What we liked:
Includes AGS certified diamonds.
The diamonds are real right from the mine, not treated.
14K White Gold Rhodium finish is shiny and looks stunning.
Our first pick, the lovely Round Diamond Solitaire Earrings comes in 14K Gold and these studded rings are AGS certified and perfect for you and you are beloved. Furthermore, these shiny earrings come in a lovely box that will definitely turn some eyes.
Moreover, the carat weight is 0.5CT, and it features SI2-I1 clarity with elegant P-Q color. Crafted in New York, these diamond studs include 14K gold with a Rhodium finish. The gold is nicely plated with a Rhodium finishing that makes it whiter and enhances its looks. Besides, the earring have screws on the back for a firm and snug fit. The screws are easy to use and prevent these diamond stud earrings from falling, especially when you are on the move.
Being Amazon's choice, these AGS certified diamond earrings are classy, and you will definitely rock with these at any place.
2
White Gold Diamond Certified 14K Stud Earrings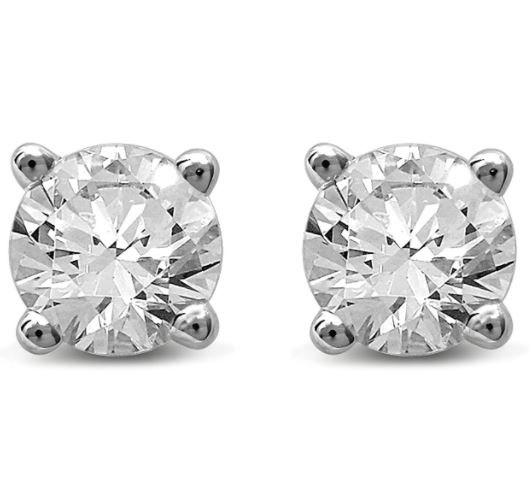 What we liked:
Conflict free diamond earrings and no black spots.
AGS certified
Handpicked and laboratory graded diamonds
Our next pick features a classic round shape and highlights the diamonds nicely in a four-pronged fitting. The diamonds are handpicked by the experts, and these are free of conflicts. Moreover, we found the screws sturdy and firm. These 14K diamond studded earrings are crafted from experts in the USA and gone through vigorous testing and quality control procedures. The screw backings are soft, smooth, and won't hurt your earlobes while you are wearing or removing them.
Furthermore, studs feature I1-I2 clarity and weigh around 0.33 carats. These earrings are available in white gold or yellow gold so you can pick any of these as per your preferences. The quality on the diamonds is matchless, and you can trust it as it comes from the best store to buy diamond earrings, Amazon.
Lastly, the earrings are AGS certified, and you will also get a certificate with the purchase of these stunning and stylish diamond earrings.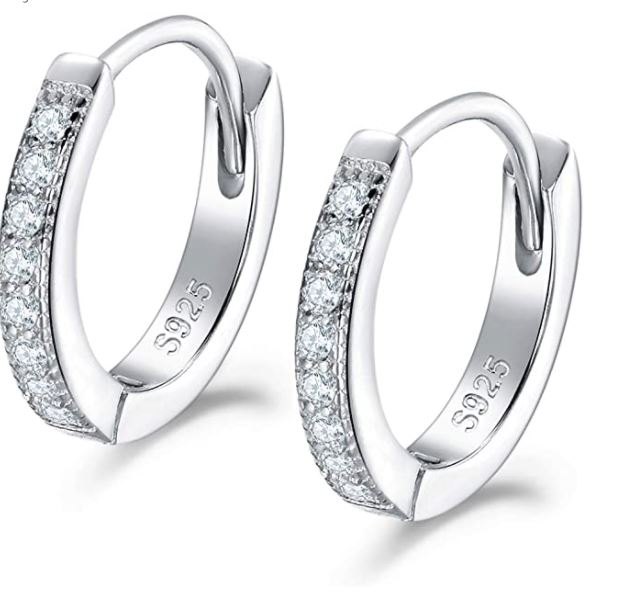 What we liked:
Snap-down claps are simple to use.
Comes with an AGS grading certificate.
The best diamond earrings for everyday wear.
This is your safest and wise bet if you are searching for the best deal on diamond earrings. Our next pick is certified by the American Gem Society Lab and crafted in 10k yellow gold, the 1/2CT Diamond Hoop earrings.
The diamonds in the rings are real and not treated artificially or enhanced in a manner. Hence you can rest assure that the net weight is true. Coming in a beautiful and branded jewelry box, these shiny diamond hoop style earrings measure around 3.4 inches in length and look gorgeous. These earrings are perfect if you want to add delicate glamour to your life.
Lastly, these top-notch diamond hoops are affordable, light-weight, and can be a perfect and sparkling gift for your loved ones!
4
Round Diamond Solitaire AGS Certified 1ct TW 14K Gold Stud Earrings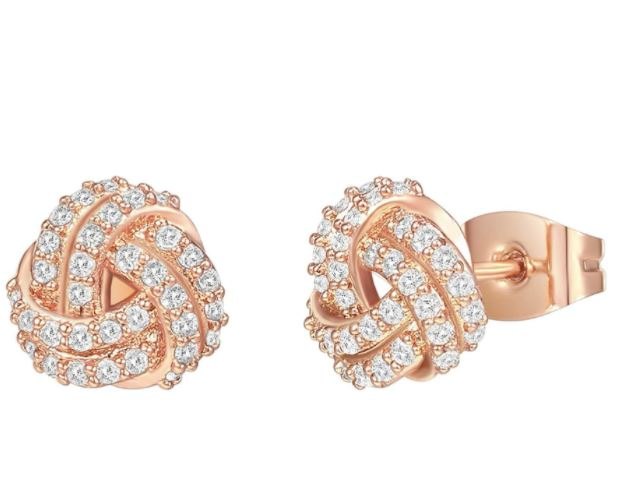 What we liked:
Natural and untreated diamonds.
Comes with tags, box, and card.
Available in yellow and white gold
Our next diamond earrings are perfect if you want studs that can be the talk of the night, the Solitaire Diamond Stud Earrings by Amanda Rose Collection Store. The rings are widely popular on Amazon, the best place to buy diamond earrings online. The studded earrings feature a trendy & chic style that complements any attire and you wear them on all occasions.
The shape and design are timeless, and you will surely receive appraises from others, even in the coming years.
These diamond-studded earrings feature a standard four-pronged holder with nicely designed screw-back posts. So, there is no need to worry about falling off from your ears, and these are super comfortable to wear all day long.
Furthermore, these are elegantly designed earrings that you can wear on all types of attires, from casual to formal, without thinking twice. With these sparkling studs, you will be the center of attraction regardless of who you are and where you are, we bet!
Lastly, the earrings come in 14K white gold, rose gold & yellow gold, so you have plenty of choices. Grab these sparkling studs now in I-J in color & I1-I2 in clarity to make your evenings glowing more than ever before
5
Diamond Wish Platinum Bezel-set Round Diamond Earrings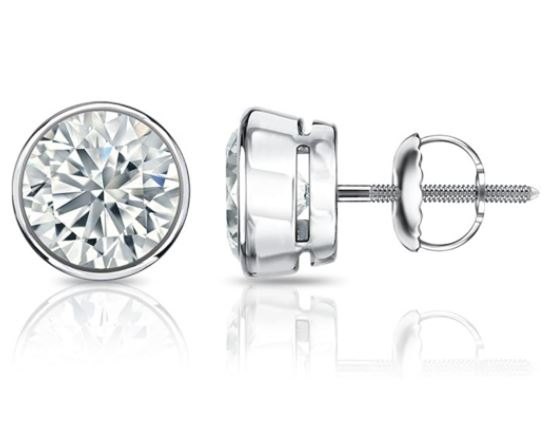 What we liked:
IGI certified diamonds.
Suitable to wear with casual and formal dresses.
Free 30-days return policy
Next, we present the Wish Platinum Bezel-set of diamond-studded earrings. This pair is easily the perfect way to add a touch of glow and spark to your daily wardrobe. The design is exclusive, and the pair features an outstanding and unique Platinum Gold bezel that elegantly encloses the diamonds and protects them while offering a remarkable showcase.
Furthermore, these earrings are different from the others as they don't come with a diamond in the center of a four-pronged setting. The most prominent aspect is its robust frame that comes fully loaded with multiple diamonds. Hence this precious stone will remain soft and comfortable for your earlobes and shine every time you walk.
Lastly, the settings and backings are covered in gold, and this sparkling stone comes beautifully wrapped in a good-looking gift box. The clarity is I12-13, and the color scheme is I-J. If you are thinking about where to buy diamond earrings, the best place to buy diamond studs is Amazon!
6
Round Diamond Stud 1/4-2 Carat Total Weight Earrings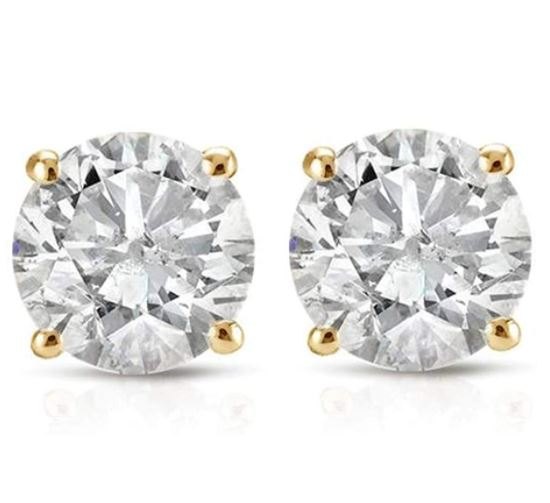 What we liked:
Conflict free diamonds.
Available in multiple metal types.
Comes with a velvet gift box.
Next on the list, we have diamond studded earrings in a four-prong holder. These are the best diamond earrings on the market that will add a pinch of much-needed sparkle to your bloomy life. The earrings feature ¼-2 carat diamonds nicely huddled together in small clusters.
Moreover, these have soft friction-post backing, so there is no need to worry that these will fall from your ears. The earring's closure is secure and smooth, and overall fitment is comfortable for ears. The quality is top-notch and guarantees that these will accompany to for many years to come.
These unique & precious stone studded earrings are designed through the Kimberly Process and free of conflict. Lastly, no black spots or dullness complaints in these diamonds.
7
Round Diamond ½ Carat TW AGS Certified Earring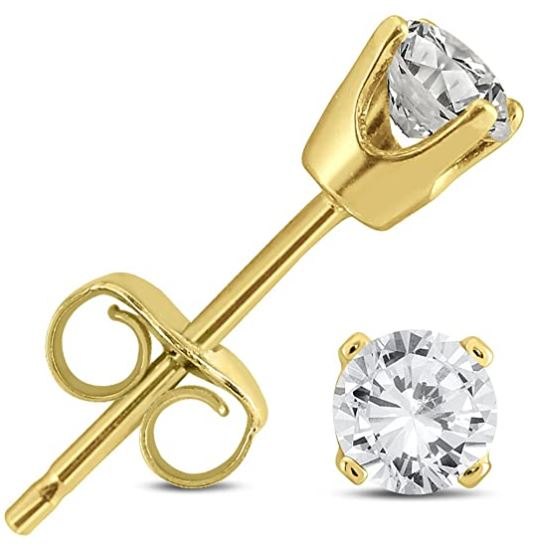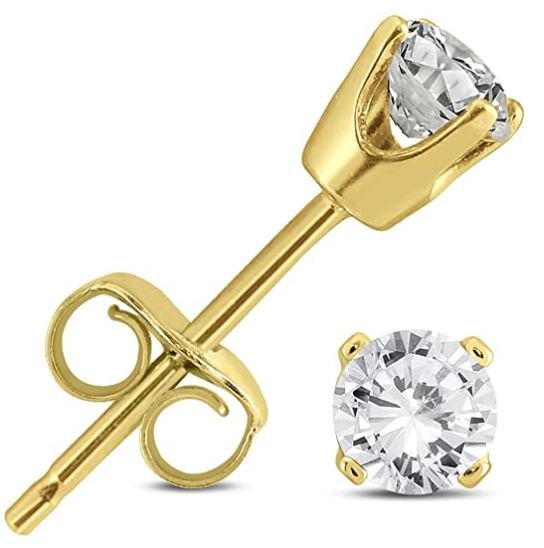 What we liked:
Minimum clarity of I2-I3.
14k gold plated.
Affordable
At this spot, we have around pair of diamond-studded earrings that look lovely in a 14K yellow gold basket holder. The earrings feature soft push back posts so you will not feel any itchiness even when you wear them for hours.
Moreover, the earrings weigh around ½ carat in total and are handpicked by the experts. This ensures that these are 100% free of conflicts and last for many years. The earring's cutting is also expertly crafted by the skilled craftsmen and no designing flaws as well. These diamond stud earrings go through strict testing and evaluation at the AGS labs for your peace of mind.
Besides, you will also get an AGS certificate and a lovely gift box with the purchase of these earnings. If you were looking for the great diamond earrings, your search ends here, and indeed it is the best deal on diamond-studded earrings that offer excellent returns for your precious money
8
Sterling Silver Round-Cut Platinum Earrings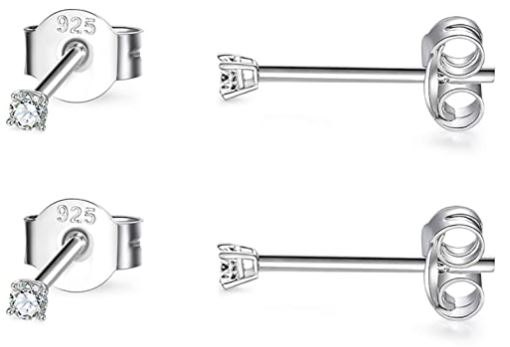 What we liked:
Secure and smooth closure.
Made with Swarovski Zirconia.
Evergreen design
Next, we have Amazon's choice on the list; the Round Earrings with Swarovski Zirconia. These silver stones are long-lasting and highly durable.
The earrings feature a smooth and glossy metal flashing that gives it a lustrous look, and this plating or flashing will not become dull with time and usage. However, we will still advise you to store it in a cool and dry place to ensure its longevity.
Furthermore, with these earrings, you have plenty of color options to choose from, and these sterling diamond stud earrings come inflated with (1 CTTW) round Swarovski Zirconia along with an embellished filigree on both sides.
Lastly, like others, this earring set also has four prongs and posts that allow for a snug and smooth closure. Lastly, you will find the Swarovski Zirconia logo engraved on the earring as a seal that guarantees the high-class diamond, and you can't challenge its authenticity.
9
Amazon Collection 14K Gold Round-Cut Diamond Stud Earring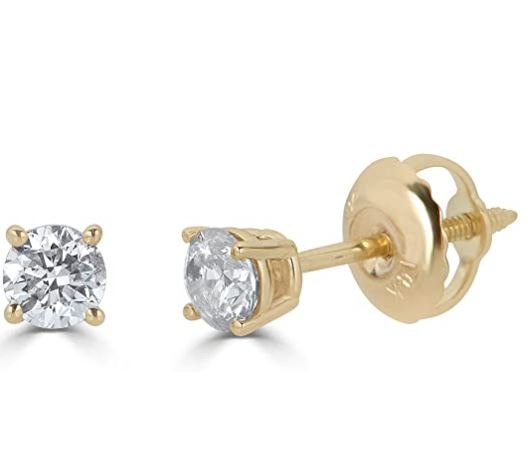 What we liked:
AGS certified.
Cutting and designing are fantastic.
Come in a lovely gift box
Our last pick is one of the best diamond earrings is another Amazon Collection, the place to buy diamond earrings online. As you know, natural diamonds have little spots that remain well hidden from the naked eyes; hence, you should buy diamond earrings from the best place and from the store you can trust.
These diamond-studded earrings feature low clarity grades and are handpicked by the experts because of their natural brilliance. Furthermore, the diamonds in these earrings are gone under the Kimberley process that makes them 100% free of conflicts and guarantees that these will not turn dull or black with the usage.
The diamond's cutting is done elegantly by an artisan, and it looks lovely and smooth without any sharp edges.
Lastly, closure and settings are quick and smooth. You can safely wear these studded earrings without any fear. As for the quality, here you are dealing with one of the best stores to purchase diamond earrings, Amazon; hence you can rest assure that you will get a certified and genuine product.
In the end, keep in mind that no other jewelry piece is as precious as a diamond. Similarly, no other stone offers the sparkle and charm like a diamond does. For almost all women, it is a dream ornament to have, and they just love it more than anything else.
So, if you want to add that glow and sparkle in your, get the perfect diamond earrings now and shine like a star. Keep in mind that diamond earrings and other ornaments require adequate maintenance and cleaning, so ensure that and enjoy the looks for many years to come.