These best earrings for babies are safe to use and super cute!
Baby earrings are usually different from earrings for adults. Around the world, there are restrictions on the kind of toxic chemicals that can be used in baby earrings. Most countries restrict the use of nickel or cobalt. In fact, the very cheap earrings for babies are made out of precious metals such as gold and silver. 
Best Earrings for Babies 2021:
Read More: Best cartilage earring
1
Ross-Simons Child's Gold Flower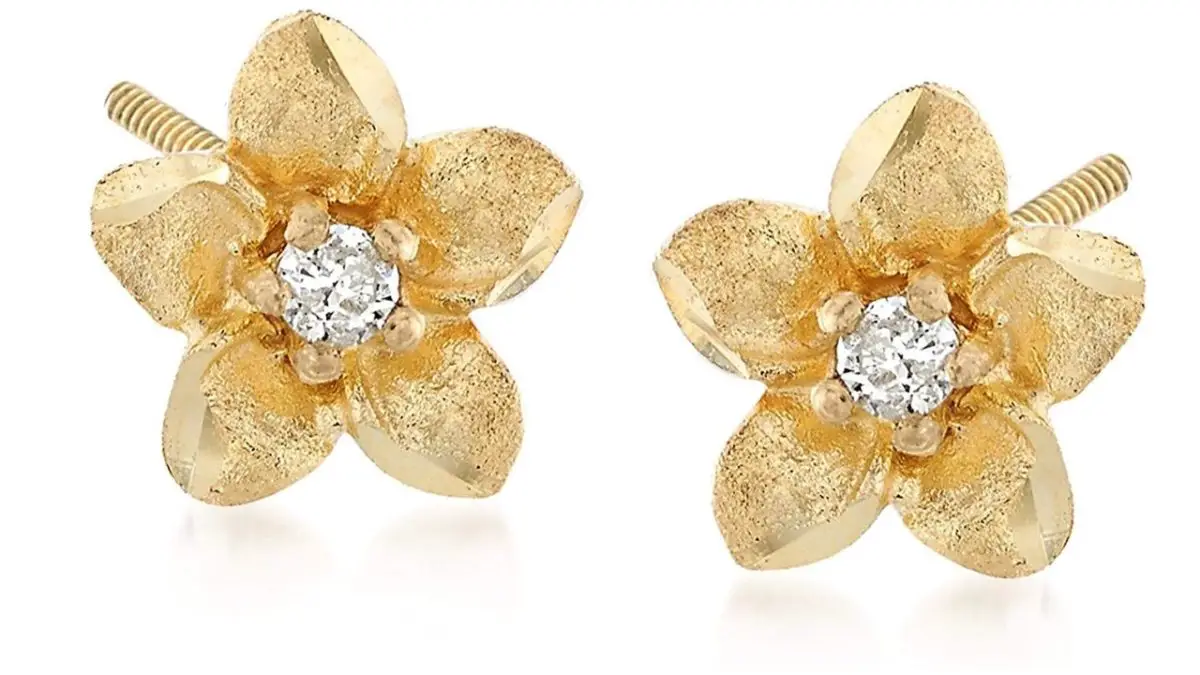 What do we love:
A very fine piece of jewelry, exquisite and one of a kind

Features real diamonds

The fine touch of gold gives it a shine comparable to the finer women's pieces
The Ross-Simons is one of the best and certainly the prettiest earring on our list. Exquisitely made for luxury, the Ross-Simons carries a beautiful 0.04 ct diamond in the middle. This diamond is a magnificent stone that has been rounded in the center and the petals themselves have been brushed with 18k gold. The entire earring can be closed using a screw-on stopper that holds the earring in place, securing it so it doesn't fall off when the toddler plays around.
The pure gold is hypoallergenic and has been designed keeping young girls often between the ages of 4 to 12, in mind. The entire set comes with a very pretty jewelry box for your baby and can be returned in 30 days if you decided for some reason that this piece isn't for your little girl.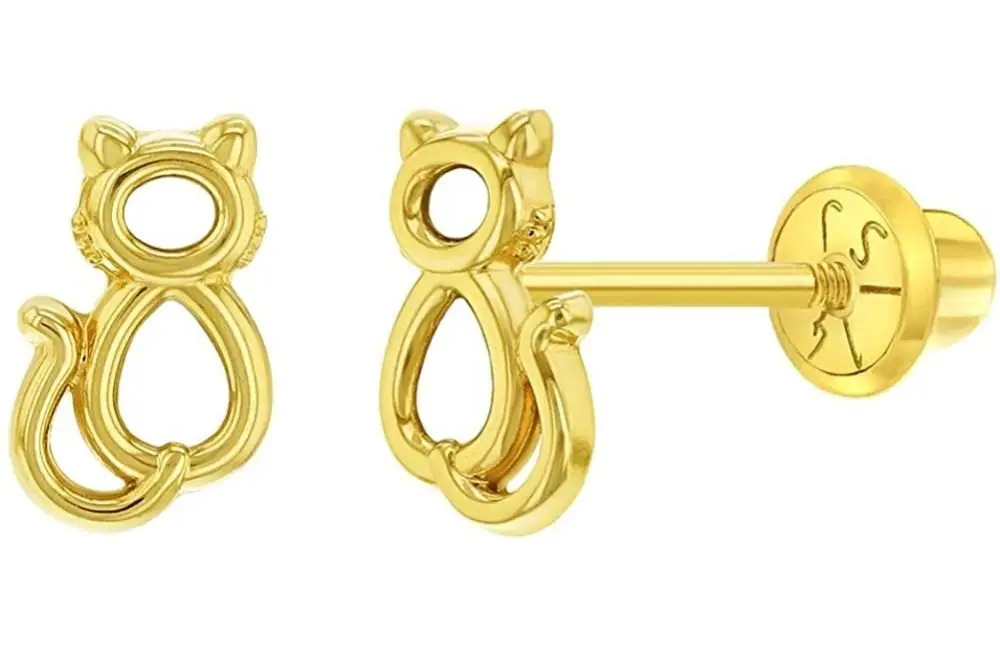 What we love:
Exquisite Design

Comes with a durable and toddler-friendly screw-on stopper

ASTM F2923 certified
Gold baby is a trusted manufacturer of gold earrings for little girls. Being a United States-based company they strive to create toddler ear-friendly, pretty and durable earrings. This particular piece is a screw-on cat earring that is made out of 14k yellow gold, (this does not mean that the item is 100% composed of gold)
They can add a bit of shine to any outfit and dangle just a bit. Moreover, they have been specifically created for girls with sensitive skin. The screws have been designed to keep the earring on without issues (mainly because the earring has been designed for toddlers). 
Gold baby and its products are all toddlers friendly. They comply with the ASTM F2923 which basically means that they have been certified for their safety and the company produces high-quality verified protected jewelry. The Gold baby is a perfect gift for your little toddler, get her something she can wear with her little outfits and help her complete her collection. The Gold baby collection features 58% gold and can be used for particularly sensitive ears as well.
3
White Gold Studded Earrings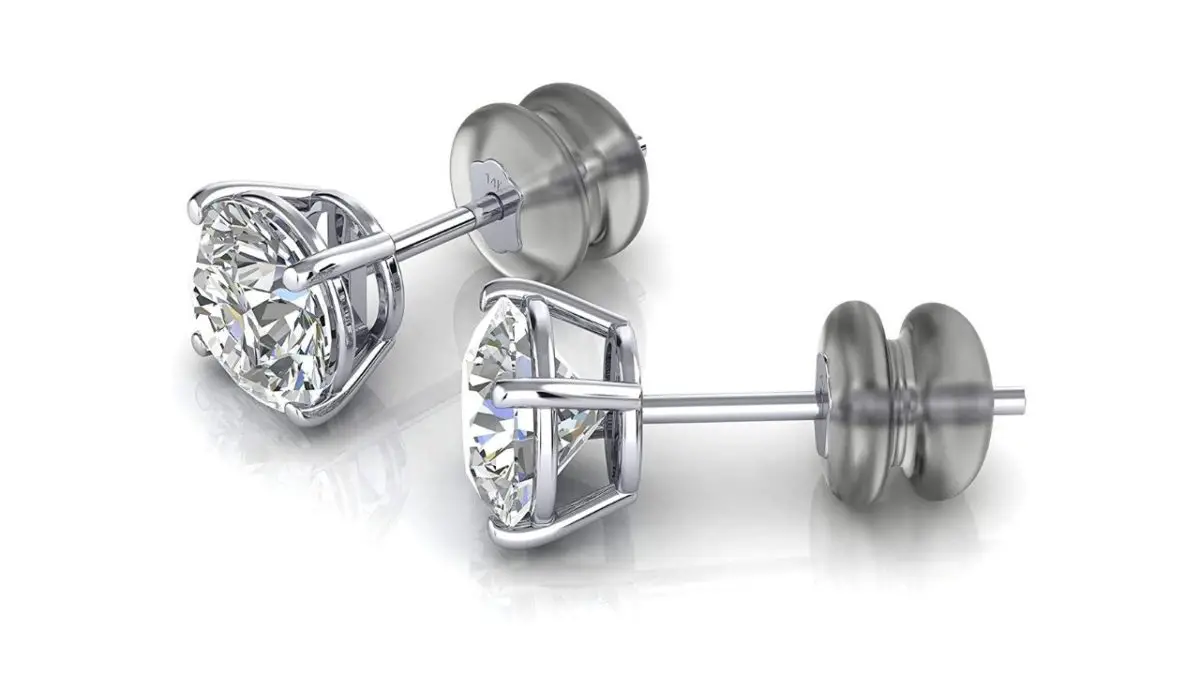 What we love:
Simple 14k gold design
Pretty and bright, match with each and every outfit
Tested for regular use and complies with child safety conditions
These white gold studs have been designed for young children, usually those between the ages of 8 months to 16 years. These earrings have been created using white gold and happen to be of superior quality. These can match with just about every outfit that your little girl wears, (since the pretty white gold works with just about everything).
It has screwback toddler safety stoppers attached to it so as to make sure the product does not harm the toddler. It has been tested again rigorously and has been approved for child use. Moreover, the product complies with children's product safety regulations as well.
These white gold earrings can work as excellent gifts for toddlers as well and can wear on a number of occasions, hence, whether you're buying her a little present for her birthday for a special occasion or just want to give her something memorable she'll be able to look back on, this is the gift you've been looking for. 
4
White Gold Girls Solitaire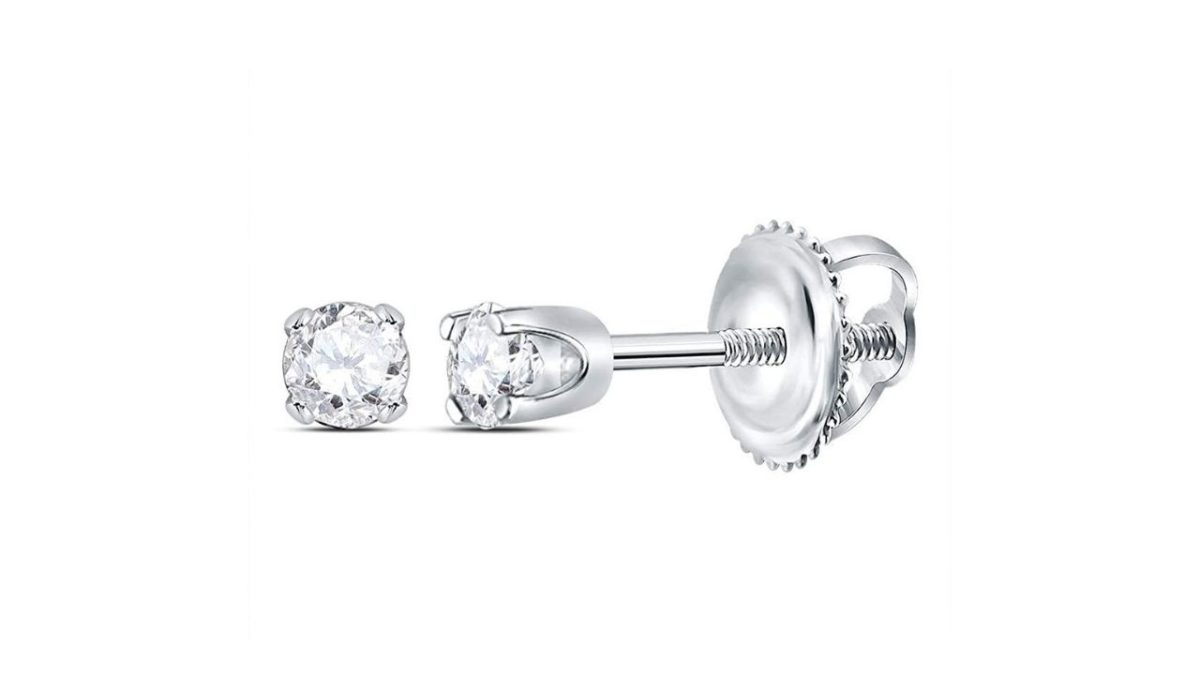 What we love: 
Saris and things produce the most exquisite diamond jewelry for young girls
Clarity of pure 14k gold

Perfect gift for any occasion
The Saris and Things have created a number of white gold diamonds containing jewelry for toddlers. Saris and Things is a large brand that creates designer jewelry for young infants, Their collection of jewelry is unique and extremely beautiful. This particular piece is no different.
The white gold girls solitaire carries the clarity of 14k gold and the beauty and reflectiveness of the diamond that it carries.
Overall, the entire piece is exquisite and is the perfect gift for your little girl's special day or and can even be a simple piece to help bring out her eyes and her outfit.
5
Gold Baby: Lady Bug Earrings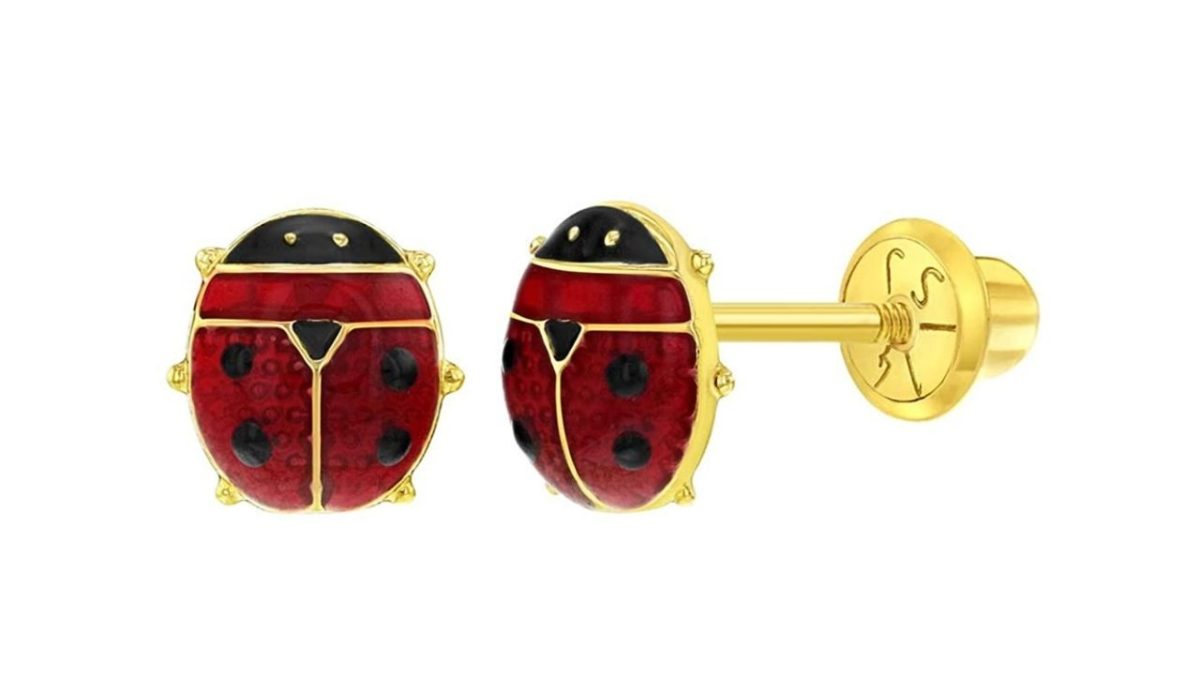 What we love:
Pretty and bright, stand out with just about every outfit

Specifically created keeping a toddlers skin in mind

Certified and durable, this particular piece provides great value
These pretty ladybug earrings are timeless and can be worn by little girls ranging from 8 months to 12 years.
This particular ladybug fold earring comes in two colors, red (staying true to ladybugs) and a pretty pink for the pink-loving mommies and little girls out there. The 14k gold is perfect if your child has sensitive earrings. However, these ladybug earrings have been created keeping young girls in mind.
Just like our other entries, these have screwable stoppers so the toddler doesn't hurt herself. Moreover, its black and red enamel color gives it a special appeal and standouts with whatever your baby wears.
Just like all of the jewelry items created by the gold baby, this particular piece is also ASTM F2923 and doesn't break the bank either!
6
Sterling Princess Earrings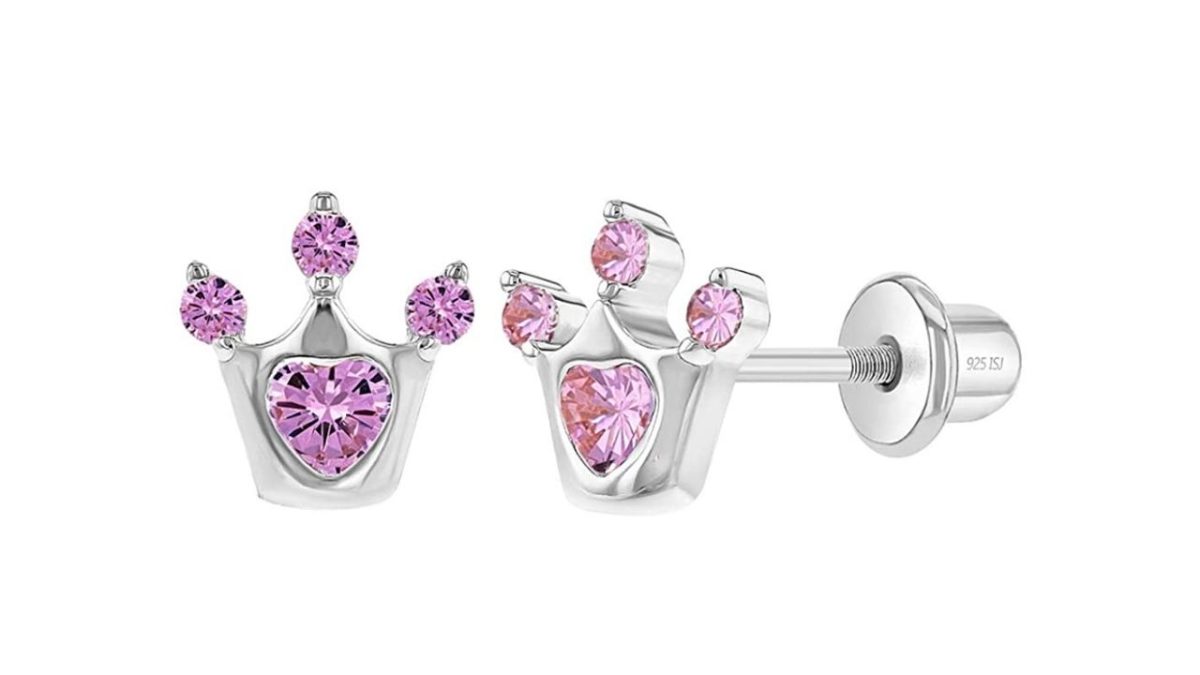 What we Love:
Inexpensive yet shiny and durable

Safe for sensitive ears

Princess earrings
If you're someone who wants to develop a large collection of tiny studs for your little girl and are looking for a material you can buy more of, then sterling is exactly what you need.
These sterling silver CZ princess stud earrings have been designed so that they can be worn safely by your little one and so that they can be paired with just about any outfit.
Moreover, the cubic zirconia is shiny and appears to be extremely bright and pretty, the mouse shape attracts all kinds of girls, especially those children big enough to take interest in cartoons and products. The Princess sterling earrings are 8 by 8. Hence, perfect for a little year as well.
Moreover, you can match with your daughter by wearing matching studs as they work well for women as well.
7
Web Gems 14k Solid White
What we love:
Web gems have been designed specifically keeping children in mind

Leading developers and designers of jewelry for children 
Features 100% 14k gold. 
Web Gems is primarily a collection of gems for women, however, they have created a new child range and the following jewelry piece has been designed for girls as young as 4 years. These little studs carry the brightest shinest zirconia and contain  100% 14k yellow gold.
The material is hard and scratch proof and the metal is safe for sensitive skin. Moreover, this particular set has been created keeping designs that would suit young faces and children. The studs are small, so they can appear bright and shiny when worn by little girls.
The web gem collection is bound to bring out the best in your little girl. 
Our list of great earrings for babies is bound to blow you away. Each of these has been designed to make sure your girl looks great in her outfit and her pretty diamond earrings.
The amazing earrings for babies will add to your baby's cuteness.