Cartilage jewelry is all the rage these days.
It is an excellent way to look amazing yet badass at the same time. In fact fans of cartilage jewelry of everywhere. Cartilage jewelry is worn in every culture and people of every Descent have been known to wear cartilage jewelry.
If you're someone who wants to increase their collection of cartilage earrings and hoops or simply wants to get their first cartilage earring then this list of the best earrings for cartilage is exactly what you need. 
Our collection of cartilage earrings are excellent for people who are either looking for something to try for the first time or are simply looking to get in on a trend that isn't going away anytime soon. We've included all expensive and inexpensive products, hence, without further ado let's take a look at the best cartilage earrings for you. 
Best Cartilage Earrings 2021:
Learn more: Best Silicone Wedding Ring
1
EPIRORA Silver Hoop Earrings
What we love: 
Cheap and pretty, you get amazing quality for the very small price you pay.

Classic; they can be worn on any occasion.

While they can contribute to a badass look they can also add elegance to your face if that's how you choose to wear it
Epirora earrings are of premium quality and are composed of 925 silver.
They have been composed of Nickel-free and lead-free material. Moreover, they do not cause any kind of irritation or rashes and hence, are a perfect match for someone who is looking for hypoallergenic earrings to wear as cartilage earrings.
Moreover, the company has been known to create a number of excellent designs that are especially suited for women who like smaller cartilage earrings.
For example, this particular piece has a gauge of 0.9 millimetres and its internal diameter is 8 millimetres.
And while they may contribute to an exceptionally badass appearance, they are also very simplistic and easy to take out.
The hoop comes with a hinged segment which basically means that they can be opened easily and are delicate in appearance.
Moreover, these multipurpose hoops can also be used for daily use and can be worn as nose rings or even as eyebrow rings. You can gift these multipurpose hoop earrings set to your favourite girl on her birthday, on Valentine's Day or even on Christmas! 
This brand has earned its place on our list of the 7 best earrings for cartilage because of its amazing quality and its versatility.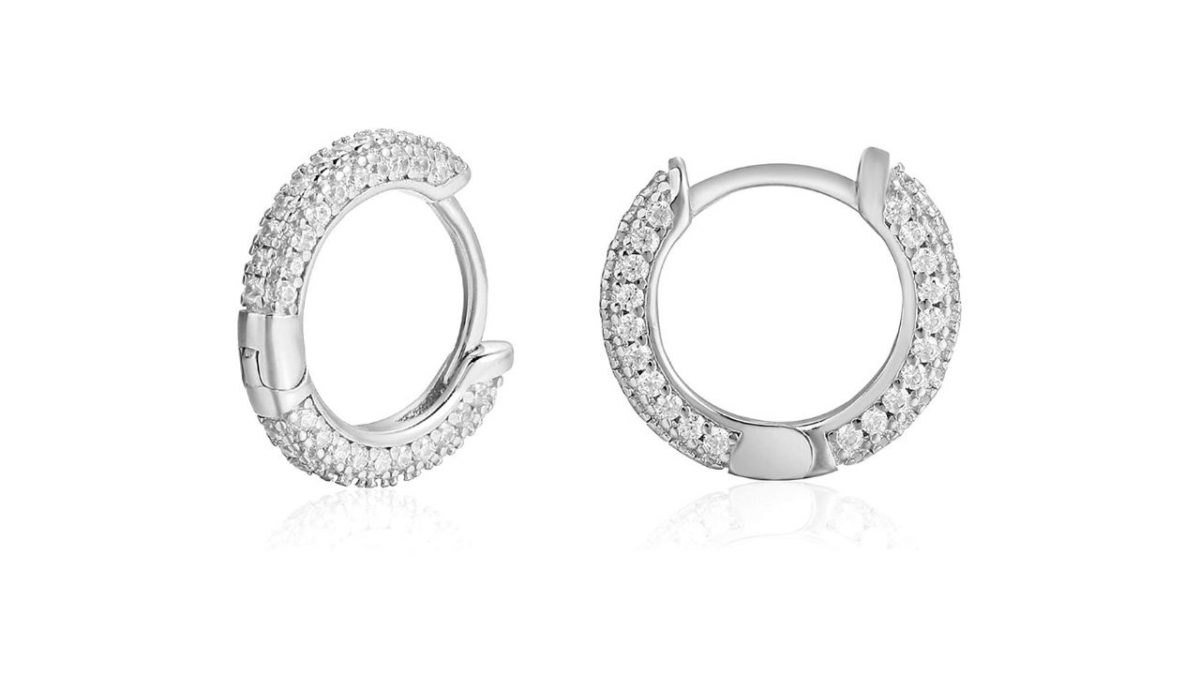 What we love:
After-sale services are excellent especially if you're buying this cartilage earring so you can add it to your daily wear collection

Shiny and rustproof, makes them truly long-lasting
Hypoallergenic, gold plated and light. 
Unlike most cartilage earrings, these have been designed to be specifically unisex, hence, they can be worn by both men and women. Moreover, the completely iced out design they feature looks extremely prominent and can be seen from afar. The faux jewels on the lux fine hoop earring shine bright and come off much more expensive than they actually cost.
It should be noted that the Luxfine has been created for everyday wear, hence, if you've been worried about them getting heavy and then itchy as you go about your day you have nothing to worry about.
To maximum long-term use, they have been created with hypoallergenic materials and are gold plated, hence, you can forget about them tarnishing, becoming rusted or you can also through corrosion out the door as well. The lux fine cartilage earrings are here to stay. 
Moreover, lux fine adversities its excellent after-sale services in which you can get a 30-day refund, the company also gives its user a 1-year warranty as well. They have their own after-sales service as well, hence, if you have any concerns simply contact them!
Gift these to your loved ones on birthdays, anniversaries and even during the holiday season, any fan of cartilage earrings is going to love these.
3
Safety Pin Hoop Earrings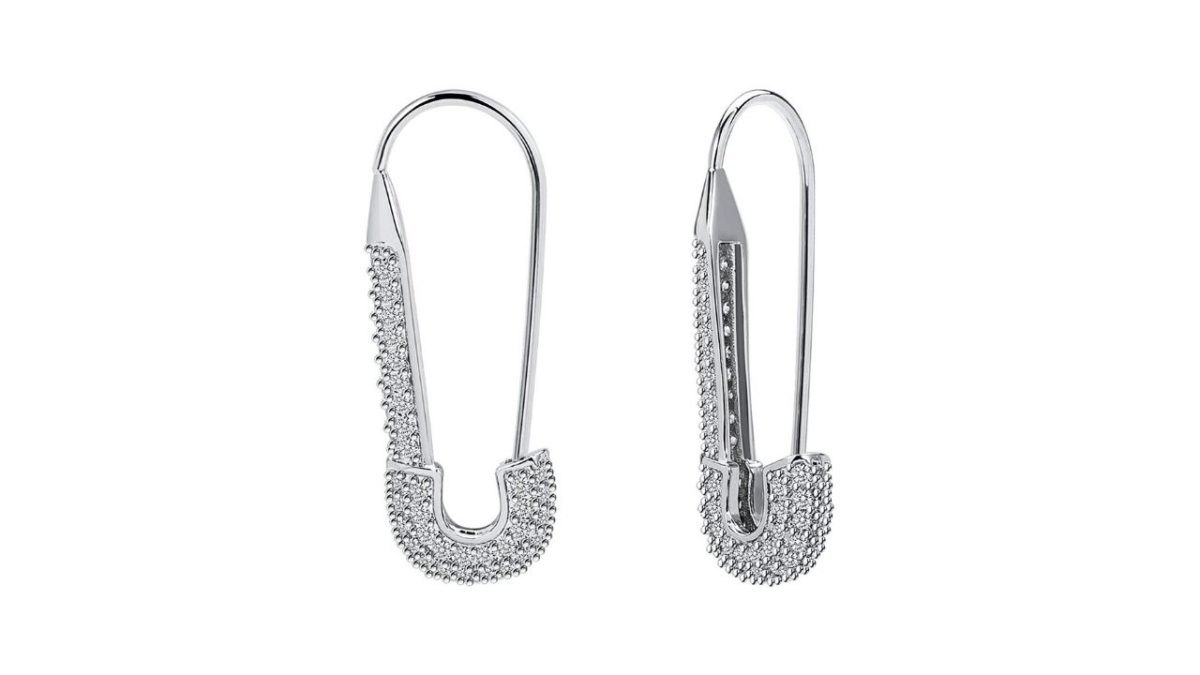 What we love:
Pretty minimalistic design features a host of different looks for different kinds of buyers, comes in punk, simple and elegant styles.

An eye-catching design that shines bright like a diamond

Hypoallergenic, rustproof and long-lasting. All for a small price!
The safety pin hoop is one of our favourite designs on our list of the best cartilage earrings because its design is just so unique. Not only does it look so trendy, but its minimalist design is also bound to catch anyone's attention.
The entire set is tarnished free and comes in a number of interesting designs.
In fact, this particular piece has a version that is suitable for just about every cartilage earring fan. For our minimalists and punk fans, they have gold and silver plain pin options. For someone looking to buy something more girly, or something they can wear to an elegant occasion then they have beaded silver and gold options as well.
Overall, the pin has been created using the highest quality Zirconia and cooper.
Hence, the entire thing is completely rustproof and hypoallergenic moreover, the piece is shiny and sparkly and is surprisingly eye-catching!
You can wear it on just about any occasion, this includes an important meeting with an elegant function. Just like the other items on our list, the pin cartilage earring is also hypoallergenic and light so that it can be used without trouble daily.
4
Curve Seven Stud CZ Stud Earrings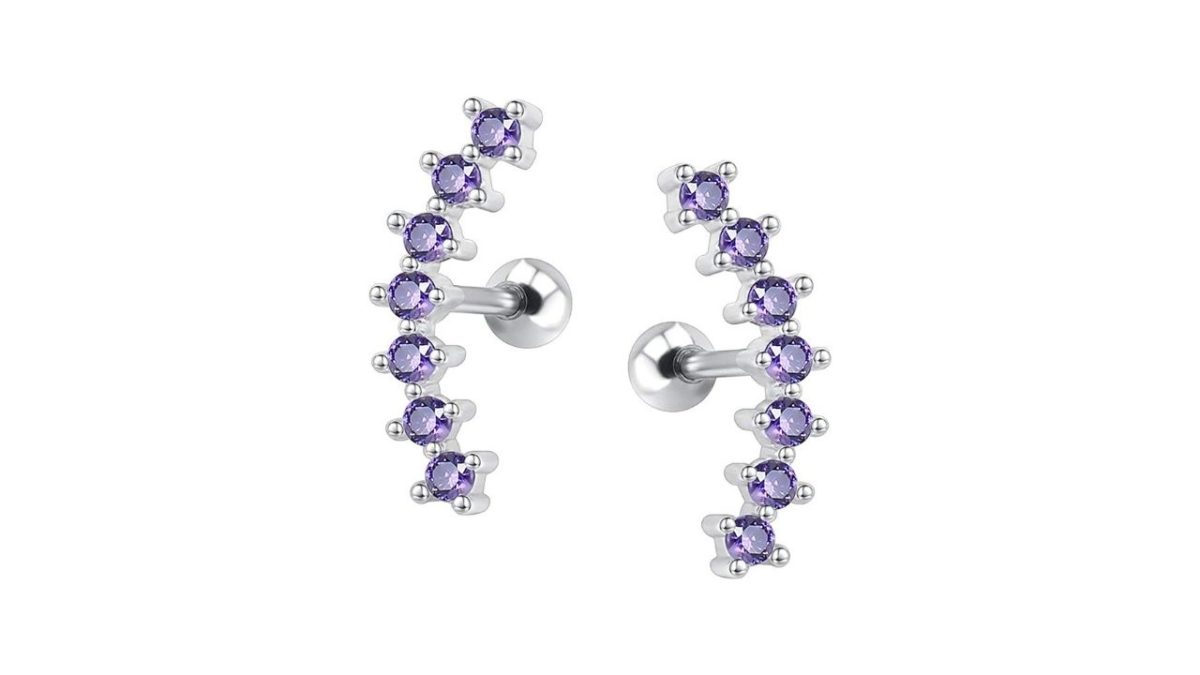 What we love:
Elegant and large takes up space on the ear and manages to create a fuller look without wearing much to many items
The elegant blue can work with a number of different styles, the complete look is super versatile

Doesn't break the bank and manages to shine as most expensive products do
The curve Seven studs, much like our other cartilage earrings have an extremely unique look. 
These have been composed of surgical steel, to keep it from rusting, becoming a possible place for the birth of harmful bacteria that could cause infection in the ear.
Moreover, the earring also carries beautiful and shiny very small AAA cubic zirconia stones as well. The gauge of the earring is just about one point 2 millimetres and it has a climber size of just about 6 millimetres as well. 
The climber is one of our favourite pieces of jewelry. Mainly because it manages to look pretty and takes up space on the ear.
This means that it will be able to look elegant yet trendy if one wants something to add something to their ear.
5
Vcmart 16G Tragus Earrings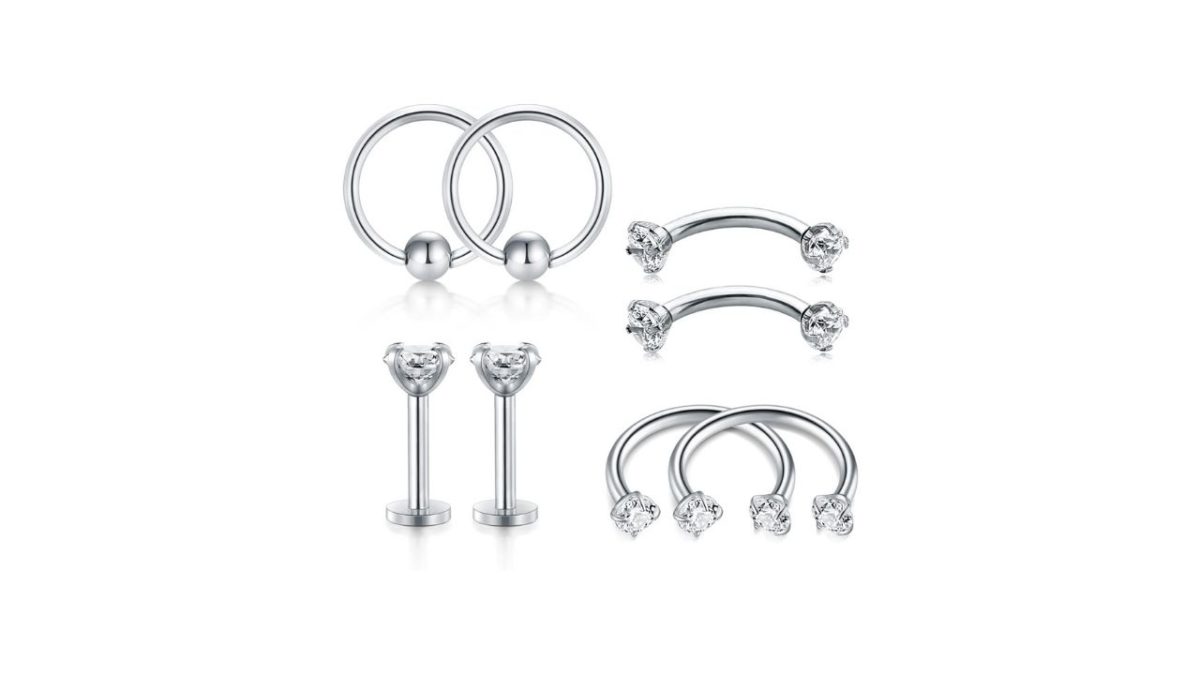 What we love:
With the Vcmart you get a complete set for the price of one. 

Everything is made of high-quality materials, so you never have to worry about getting infected.
It is made out of hypoallergenic materials and the 4 piece set also comes with a warranty
The Vcmart 16G set is one of our favourite cartilage earring sets on the market mainly because of the sheer variety that they provide.
Moreover, despite the fact that the whole set doesn't cost a lot, it has been certified with captive beads and has been created using surgical stainless steel beads and high-quality hypoallergenic materials.
The cartilage helix comes in a number of sizes and a range of fine products that can add the variety you've come here looking for. The surface is extremely comfortable and lightweight and a number of these can be worn together.
The complete set contains an eyebrow barbell, a horseshoe hoop, a captivating beads ring and a labret stud.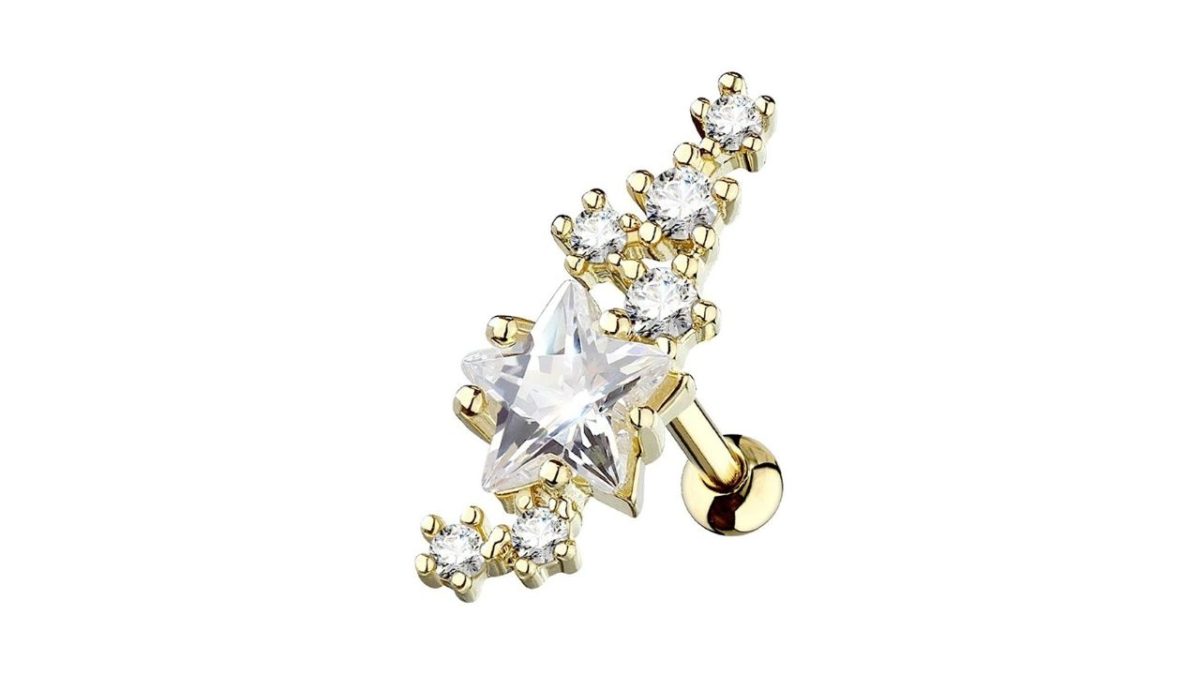 What we love:
Forbidden body jewelry is an inexpensive excellent brand

The following piece comes in three different styles

The unique piece also features three colours
Forbidden body jewelry is a style focus brand that hopes to create innovation in the world of earrings.
Their stainless steel cartilage piece has something for everyone as it comes in a number of interesting designs that have been created for the many diverse fans of cartilage earrings.
Our personal favourite is the pretty shooting star and its combination with gold. It's a unique piece that can work well for anyone. The colours for this cartilage earring range from being toned silver, to rose gold and even yellow gold like the one featured in the age. These earrings are perfect for everyday wear.
Basically, they are largely hypoallergenic and can work well as the basis for your total earring look.
Moreover, the complete piece is made out of stainless steel that looks pretty and detailed. You can choose between the other options as well, as the same type of earring is also available in two different styles as well as features a faux flower vine and a faux flower pearl.
The material is largely hypoallergenic and lightweight. Hence, you won't even feel it on your ear!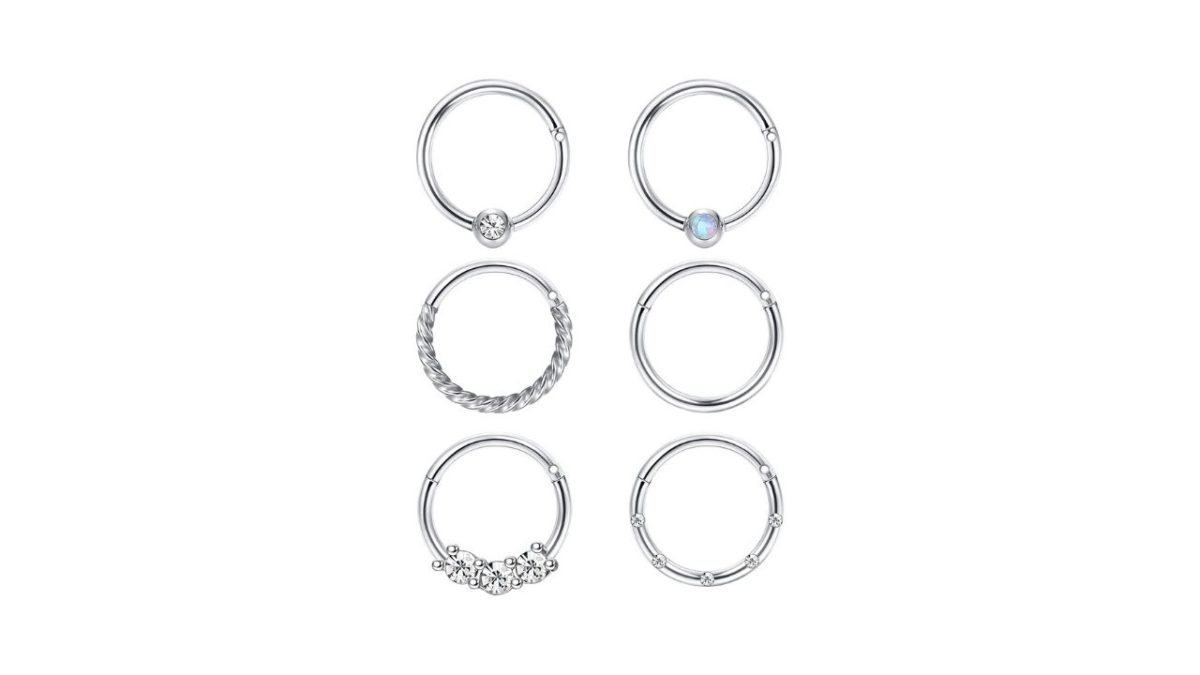 What we love:
Lovely and chic, very classic

Beautiful shine, high quality

Great price
Fibo steel is bringing us back to the basics with their uniquely styled cartilage hoops that have been created for women who love the classic hoop look to add to their looks.
This particular pack comes with 4 different hoop cartilage earrings and each of them is in silver. We love the shimmer that's highlighting the silver.
The Opal that is placed on these is faux but has a very beautiful shine, overall the creates an aura that we all need in our lives.
The reason we so love these is that you can never go wrong with classic hoop earrings. 
Plus FIBO has created excellent quality steel hoops that look totally amazing but don't break the bank. Hence, they deserve their position on our list of the best cartilage earrings.