Crystals are a great healing tool, the use of which extends beyond the treatment of physical ailments. Through the use of crystals, you can modify and enhance your chakra and your spiritual power.  
Well, one of the easiest ways you can do that is to incorporate a crystal-infused product in your daily life. Crystal water bottles are definitely one of the best items you can get in this regard. It not only helps heal and unblock your chakra but at the same time, it looks super classy and trendy. So here are our picks for the top seven best crystal water bottles you can get right now.
Recommended article: How to cleanse your crystals & Learn more: Best Men's Cross Necklace
1
Phoenix crystal water bottle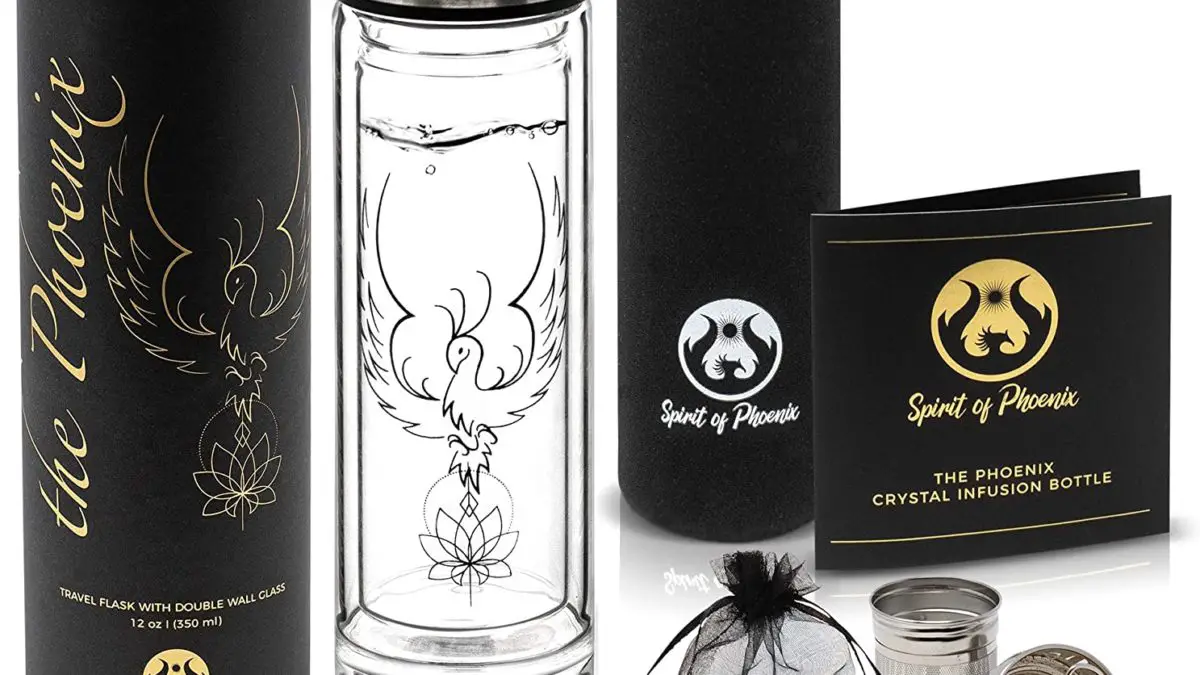 Build material: BPA free, double chamber glass
crystals used: Amethyst and rose quartz
Color: Metallic with black phoenix design
So the first up on our list is the beautiful phoenix crystal water bottle. The best thing that we like about this bottle is that it poses no threat to the environment, the build of this water bottle is such that it includes no environmental toxins or plastics.
It has an all-glass body with a BPA and lead-free construction also with no toxins added makes it perfectly safe to use. So you can enjoy your crystal enhanced drink all day without thinking over its potential impact.
Next, let's talk a little bit about the crystals that you can use in this healing crystal water bottle, it basically comes with two large crystals amethyst and rose quartz both of which are renowned crystals in the healing community, rose quartz is associated with the feeling of love and affection whereas amethyst is usually associated with spiritual healing.
The combined effect of these two crystals will surely bring about a positive change in your day. However, as we all know different crystals are used for different purposes and each holds a specific ability that impacts your life accordingly.
So through the lifetime of your gemstone water bottle, you're probably going to need other crystal as well. So the good folks over at phoenix crystals added the option to insert your own crystals into the crystals try, so according to your day and needs, you can select the perfect crystal for you.
looking at the immense varieties of features this bottle offer, it easily secures a spot at our list of the best crystal water bottles. To find out more about the type of crystal and their needs head on over to crystalopedia.com.
2
Gemstone Well Crystal Elixir Water Bottle:
Build material: All-glass design with a sturdy metal cap
crystals used: Amethyst and rose quartz
Color: Metallic
The next crystal water bottle on our list is the Elixir bottle from gemstone well. This bottle like the others on our list is made from top-notch and environmentally safe materials. It's has a premium build quality with a separate chamber for your healing crystals. 
Most glass manufacturers don't offer this feature and that in turn leads to a high risk of the glass shattering, with the crystals flowing around they are sure to collide with the walls and if the glass isn't tough enough it breaks. Another exclusive feature gemstone well offers is that the bottle comes with a neoprene case to carry it easily.
Like the previous bottle, the gems that the elixir bottle comes with is a mix of amethyst and rose quartz crystals, the easel removable bottom metal covering makes it super easy to customize the effects of the bottle.
Also, the manufacturers emphasize that their crystals are of premium quality, as you might know, the principle of crystal healing is on the basis of unblocking your chakra and synchronizing its flow, the crystal used in this bottle offer super fast and effective synchronization.
3
SeaHome Crystal Water Bottle: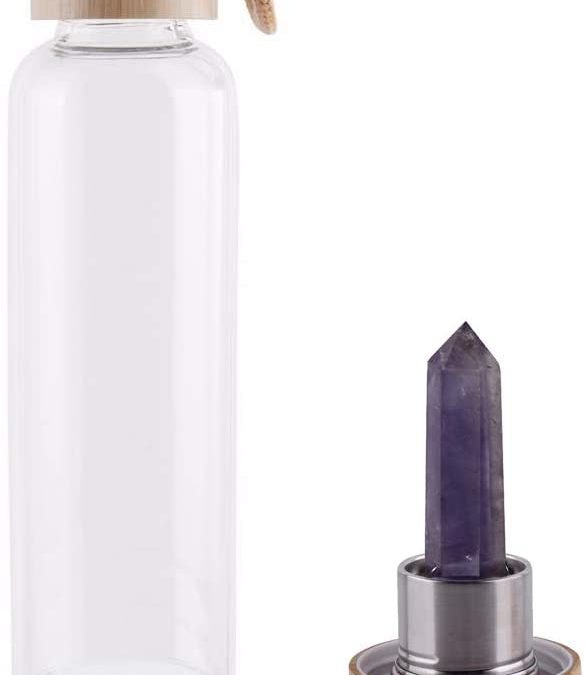 Build material: BPA free, single-chamber glass, exposed crystal
crystals used: Purple quartz
Color: Brown
What makes the SeaHome special is that it has a bamboo top, which beautifully complements the all-glass look and also the tall purple quartz in the middle. The unique design makes this bottle one of the best crystal healing water bottles that you can get right now. 
As with all good crystal water bottles, the bottom of this amazing bottle can also be removed and the crystal can be replaced. Though unlike most manufacturers this bottle has purple quartz instead of the rose quartz usually offered.
Due to the location of the crystal inside the bottle, the healing effect is magnified and in fact, the charging time is reduced. As with all crystal once they have been used they need to be charged, usually through natural sources and processes like grounding. To find out more you can explore this topic on crystopedia.com.
Since the crystal isn't covered hen we recommend first washing the crystal and cleansing it before use in your bottle. The bamboo style in our opinion is spectacular but if your the type of person that wants a minimalist design then the SeaHome is also available in a metal design. It's also super durable with a shatterproof glass-making this crystal water bottle a must buy.
4
GEM crystal water flask: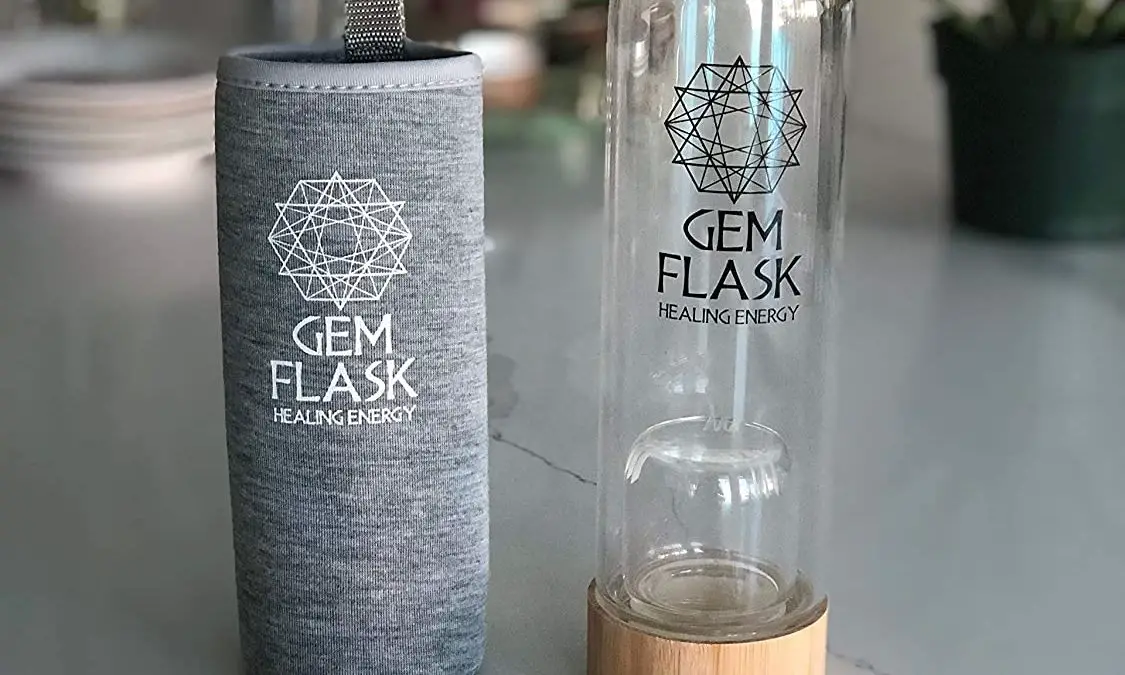 Build material: BPA free, shatter-resistant
crystals used: Amethyst and rose quartz
Colors: bamboo brown
The gem flask is another unique water bottle, so let's first talk about the design. One look at this water bottle will tell you all you need to know. The water bottle consists of a bamboo top and bottom and also includes a specific chamber full of little crystals. The crystal-infused water bottle itself comes with two glass chambers one is full of amethyst crystals and the other one is full of rose quartz crystals.
The selective approach for the crystals that these manufactures adopt is also very useful, the smaller and larger number of crystals offer a more selected healing therapy method.
Sometimes the crystals of entirely different natures, if used together can interfere with each other. They don't necessarily cancel each other out but the overall efficiency of each crystal is reduced.so using one specific crystal can actually be better, depending on the case that is.
Here at crystalopedia we also focus a lot on the environmental impact of these products, since it is everyone's job to look out for our amazing planet. Luckily this crystal water bottle is made from non-toxic and environmentally safe products, so you don't need to worry about that.
Lastly, let's talk a bit about the durability of this bottle as well, it's extremely rugged and it also has a leak-proof design, so you can carry it in your backpack without worrying too much.
Oh, and one more thing, a free neoprene case and a limited one year warranty also come with it. With all these amazing features in mind, we can safely say that this is one of the best crystal water bottles on the market.
5
kungfubull Elixir Crystal Glass Water Bottle: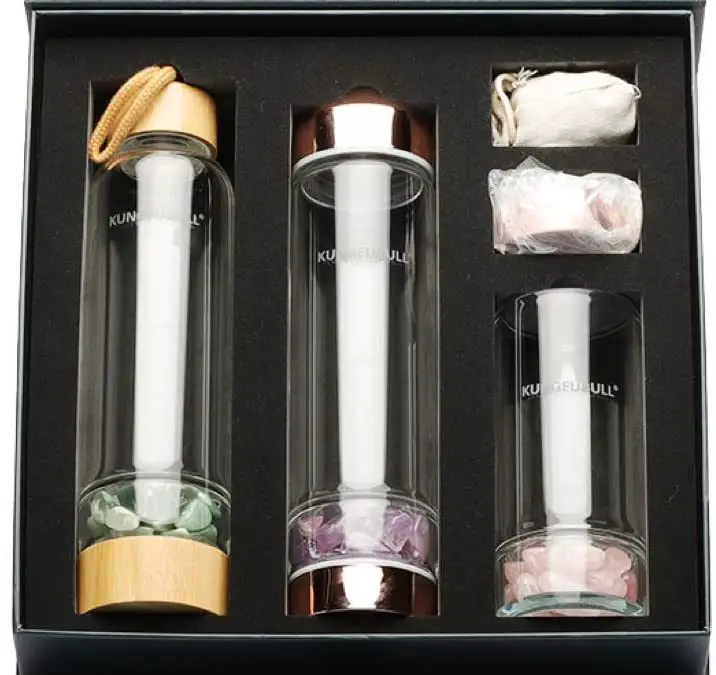 Build material: BPA free, bamboo and metal coverings
crystals used: Amethyst, aquamarine androse quartz
Colors: Rose gold, bamboo and black
The kungfuball is one of our absolute favorites, it's variety and elegance is second to none. So let's take a deeper look into what this premium crystal water bottle package has to offer.
The package comes with not one but three amazing options.so the first one is the sports crystal water bottle with light and rugged bamboo cap, it's super durable and aesthetically pleasing. It's a great product for using in the outside.
The next one is the office rose gold version, we have to admit this bottle is absolutely stunning, the rose gold accents look spectacular. It's classy and elegant perfect for an office setting. The next one included in the package is actually not a bottle but a glass with a lid, it's meant to be used in our home. 
So with this package not only are you getting two super deluxe and premium water bottles but you're also getting a beautiful glass, not to mention the additional lids that come with the package.
In terms of specs and feature it checks all the boxes for a modern gem water bottle, the crystal can be replaced, the glasses super durable and all the materials used in the construction of this bottle is environmentally safe and almost all of it is recyclable.
It is one of the best crystal water bottles on the market right now.
6
GOODESERVE Natural Quartz Crystal Water Bottle: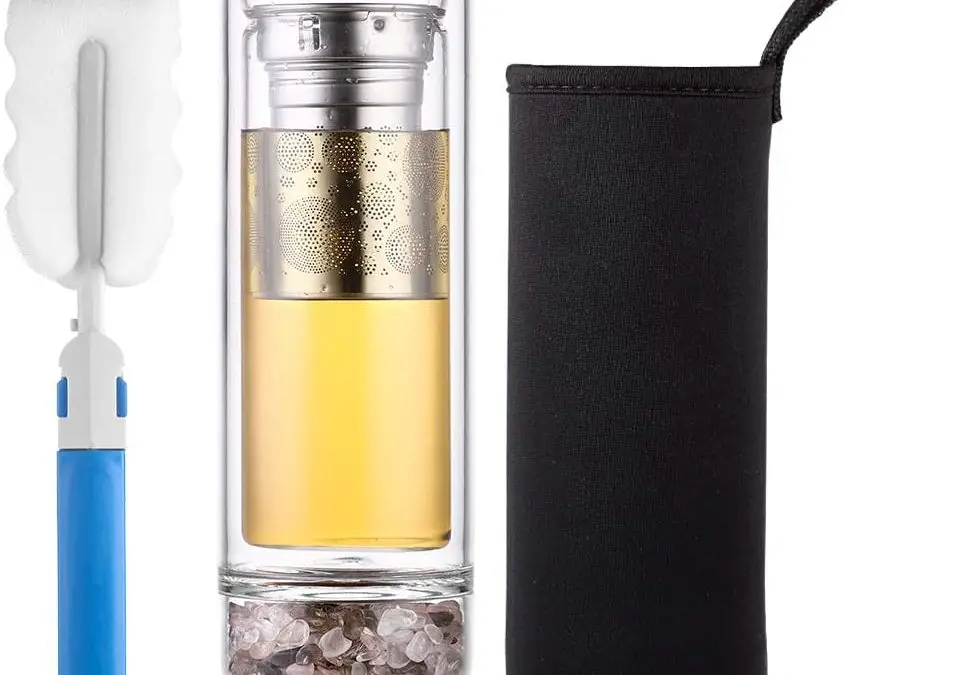 Build material: BPA free, durable glass
crystals used: Rose quartz, clear quartz and smokey quartz
Colors: Silver metal with a black neoprene cover
The goodserve is another amazing healing crystal water bottle, the standout feature about this bottle is that it includes a beautiful tea strainer and infuser, so you can easily make the tea of your choice within the tea glass bottle itself, however, if you don't want to use it then you can always remove it and just use the glass bottle.
The next best thing about the goodserve is that it comes in double glass design, so you can pour hot or even cold liquids and hold it with ease, the glass itself is 3.8mm thick making it shatterproof and even heatproof, its vacuum-sealed design makes it leak-proof and ensures that the no contaminants mix with your tea.
This glass bottle also comes with a cleaning utensil which is a great foresight from the manufactures since cleaning such bottles can be a little tricky. As far as the crystals go, good serve has chosen an impressive variety of different types of crystals to include in their water bottle.
Rose quartz, clear quartz, and smokey quartz are all used in this together to enhance the heating efficiency of the water.
7
Lifestyle Products Glass Water Bottle: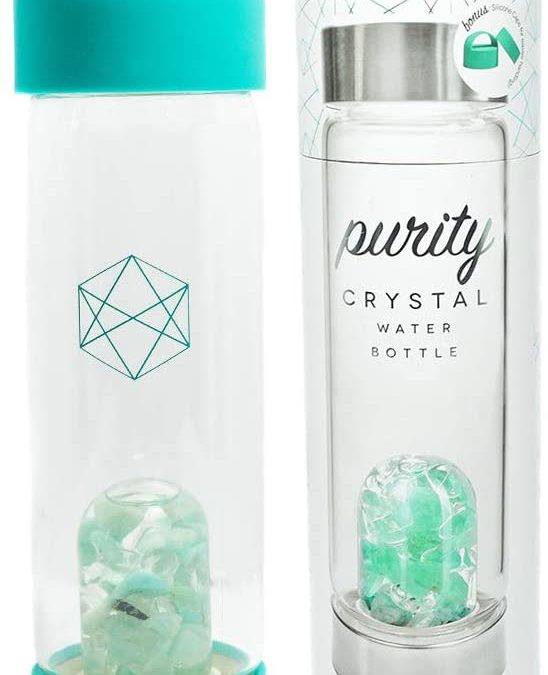 Build material: BPA free, double chamber glass
crystals used: aquamarine, quartz, black emerald
Colors: black, purple, turquoise
Last up on our list of the best crystal water bottles on the market is the lifestyle water bottle with crystal inside. If you want something vibrant, minimalistic, and simple then look no further then the lifestyle crystal products, these water bottles have a Beautifull silicone cap in a vibrant turquoise color. The pentagonal print of the lifestyle logo on the glass looks spectacular. 
It comes in three options, one with the aquamarine quartz and the matching silicone caps, the other one with the black emerald crystals, and also one with the amethyst quartz. All three of these come with matching colored caps and are great options to consider if you're in the market for a great crystal water bottle.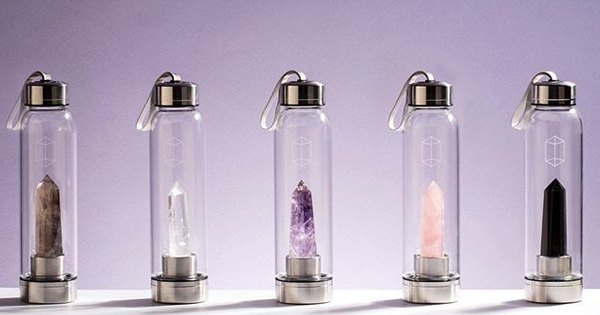 Here are some more crystal bottles that we tested and found to be good:
Kungfu Crystal Water Bottle
Bodhi elixir crystal water bottle
Store Mac Crystal Water Bottle