We know that creating a masterpiece with all your effort only to watch it fall apart because it didn't have enough support can be truly heartbreaking. To solve this problem we have created a list of the seven best types of glue for making jewelry.
We have created this list by considering the composition of the glue and matched them according to materials that most people use when creating jewelry. Hence if you let our list guide you in selecting the best type of glue for your project we guarantee that you will not be disappointed.
We also specialize in a specific field, that is the healing properties of the crystal. You can use them in all sorts of ways, for example: passing a driver's test and calming your mind and body.
Learn more: Best Crystals For Lucid Dreaming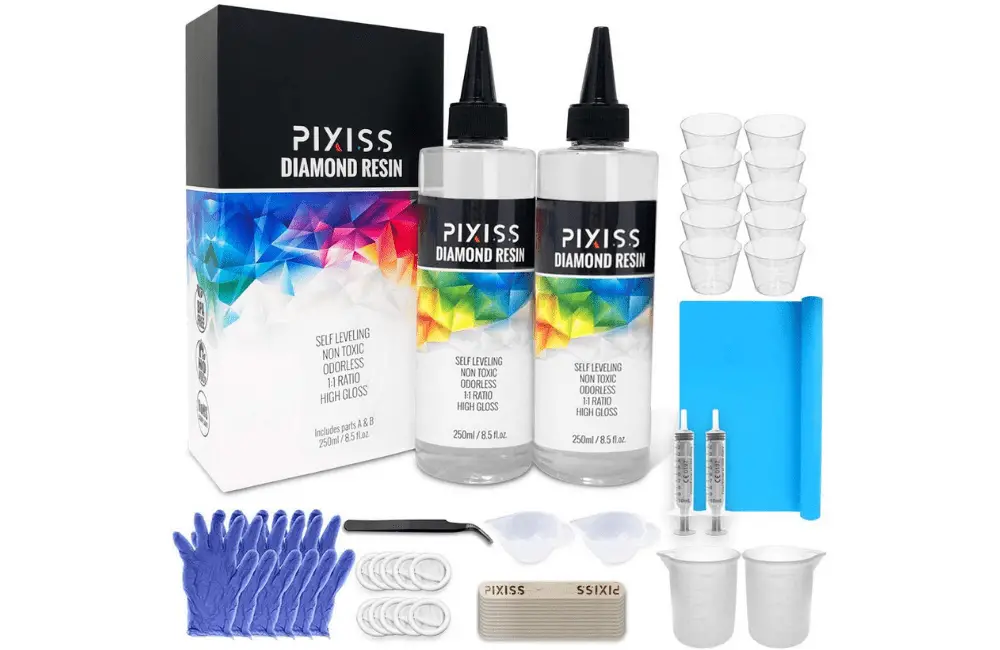 Why should you use Epoxy? 
It is self-leveling

Long-lasting, durable and reliable
Epoxy is one of the most famous glues in the market. This is because the glue got its fame for being very strong and easy to use. The best thing about the glue is that most of the glues in the same category as epoxy have a very strong odor that can cause headaches to the user this is not the case for epoxy it has a very slight odor.
The glue is very convenient. Not only is it easy to use but also the glue is self-leveling meaning it requires minimum effort. Epoxy also has a high-gloss finish which means that it does not only make your masterpiece stronger it also helps in modifying it. 
It is also long-lasting and reliable. As discussed the glue is self-leveling and it does not become yellowish after it drys. Moreover, it is also able to resist heat and it will not melt when exposed to hot objects. Hence no-matter the material epoxy is one of the best glues for jewelry making.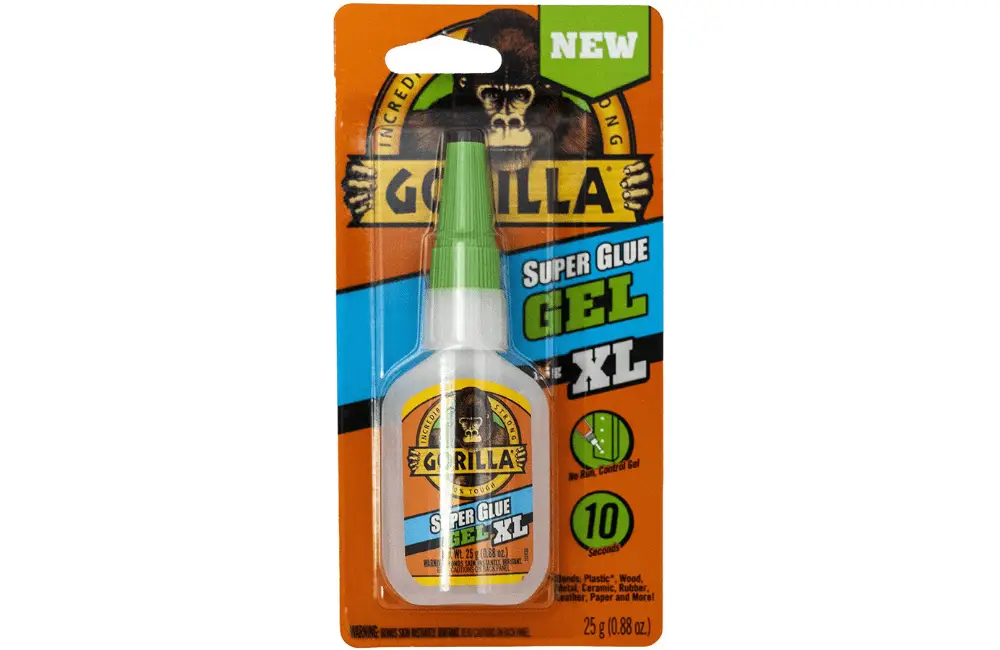 Why buy Gorilla glue?
Convenient

Multipurpose

Strong-adhesive
Gorilla glue is strong-adhesive that is used to hold jewelry together no matter what kind of material you're using whether it is metal or you're using gemstones and pearls gorilla glue is the best. It is a multipurpose glue that is used by professionals. One of the major problems that are present in most glues is that almost all of them are very difficult to handle but with the gel formula of the gorilla glue that is not a problem anymore. It is made for vertical surfaces hence you can easily use it for jewelry making. Its super strength comes from its molecular structure, much like that found in nature.
Like Epoxy the gorilla glue is also very practical because it can easily resist tough-impact. The glue also only takes a few seconds to make your crafted masterpiece much stronger. Since the gorilla glue is multipurpose you can easily use it for metal, plastic, fabric, and paper.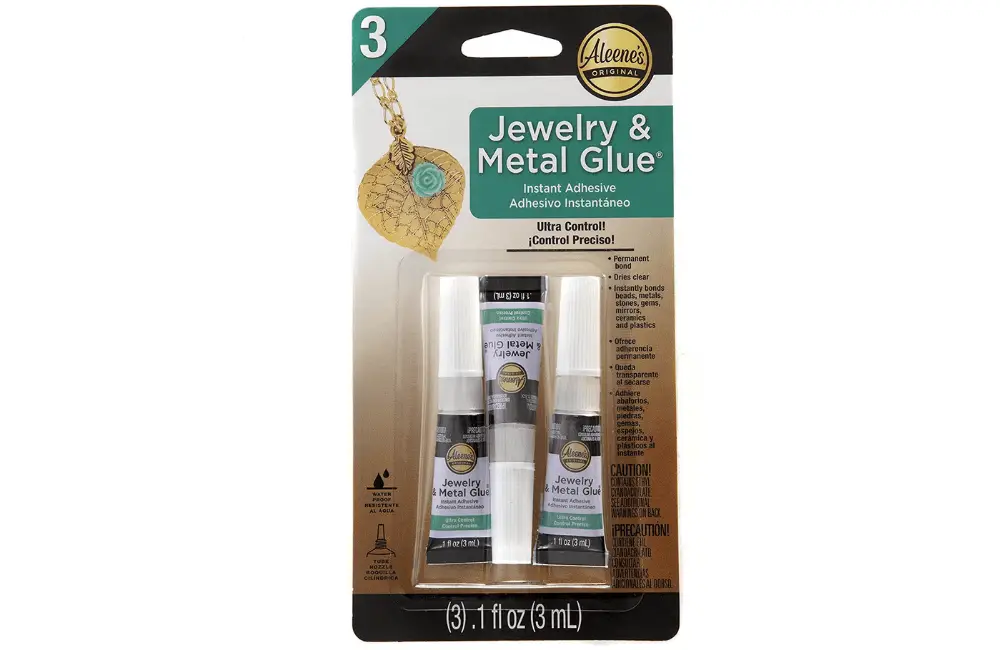 Why Aleene's glue is one of the best in the market?
It does not have an odor

It is perfect for any kind of jewelry 
Aleene's glue is made to perfection because it has everything that should be present in a good adhesive. The glue has a gel formula which guarantees that the glue will be easy to handle and you can use it on any kind of surface. Aleene's glue also only takes a few seconds to harden meaning it will make your jewelry strong and ready to use in almost no time at all.
The best thing about it is that it dries quickly and it stays clear when it dries. The glue does not have a yellowish color after it drys making your jewelry the center of attention and does not ruin the stunning look of your product. It is also a multipurpose glue that can be used for any type of material.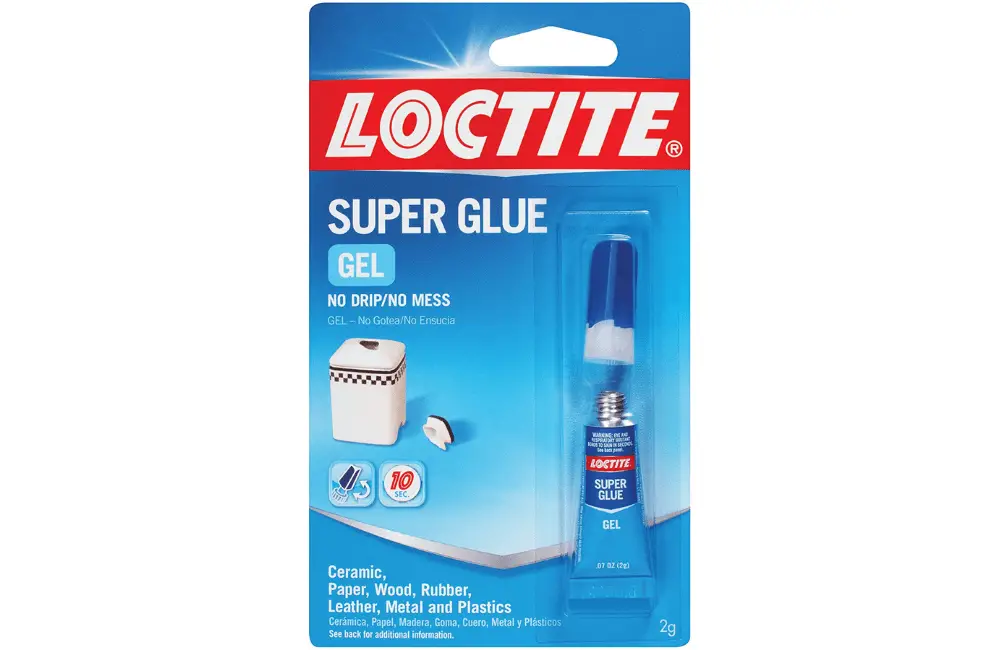 Why did we include Loctite in our list?
Perfect for smooth and rough surfaces

Has no-drip gel

Allows a transparent finish
The Loctite super gel glue is very convenient as like the gorilla glue it has the gel formula that allows you to apply the gel glue on rough and smooth surfaces. Moreover, the glue is also perfect for small gaps hence you can also fix a broken piece of jewelry. One of the best things about Loctite is that it comes in a self-piercing tube meaning it minimizes the chances of leakage in the packaging of the glue.
The glue also makes the process much easier by setting without making clamps on the surface of the jewelry and the glue dries clear giving the crafted piece a  stunning finish. One of the things that we love about the glue is that it has no-drip gel making itself easier to handle and allows the product to have a transparent finish.
5
CAT PALM B-7000 Adhesive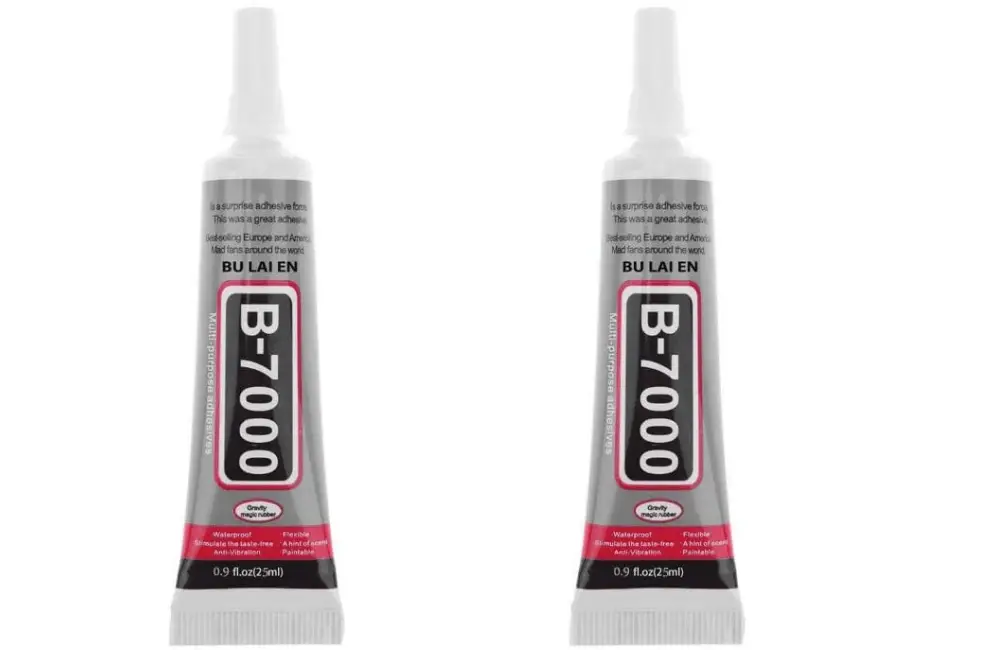 Why buy cat palm?
It is flexible

The glue is very strong

It can resist tough impacts
This glue has a no-mess mechanism because it has a self-piercing design. This design allows you to easily use the glue making the glue much more convenient. It also allows precise and fine drops to come out of the packaging. It is considered to be the best glue for jewelry making.
Cat-palm adhesive is perfect for any type of jewelry and the glue is so strong that it is used to fix smart-phones. The glue can easily resist tough impact keeping your jewelry intact. The factor that made us include the glue in our list is that it has a high flexibility content which makes it perfect for everyday jewelry accessories that move a lot like earrings and necklaces.
6
Permatex 84109 Multi-Metal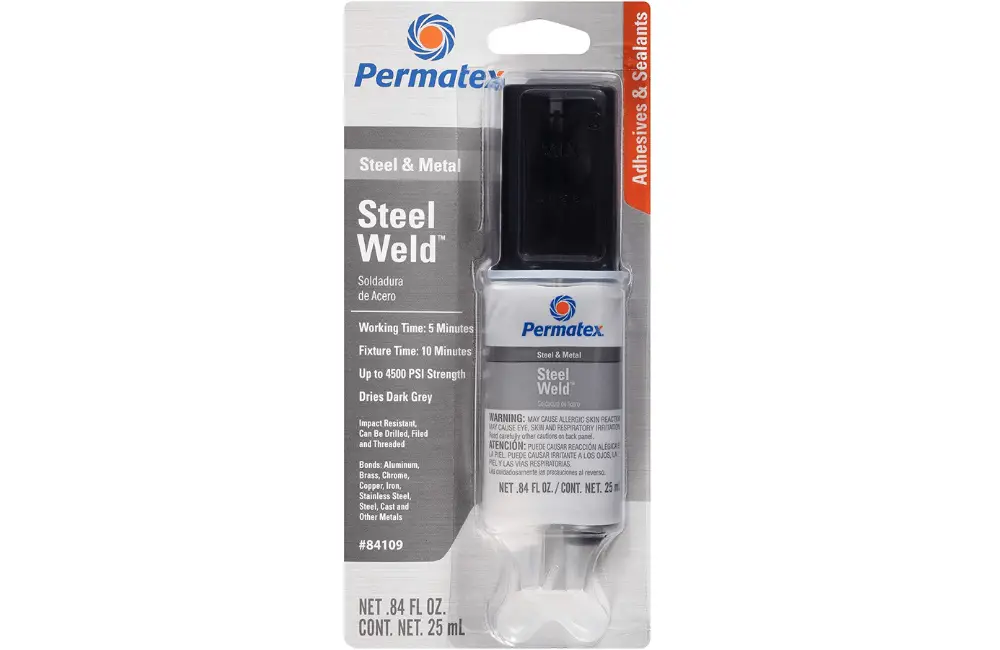 Why Permatex is one of the best glue for jewelry making?
Long-lasting and durable

Very strong
The Permatex glue is so strong that it removes the need for welding. It can be used for any kind of material even any kind of metal. Hence if you have Permatex you can let your imagination run wild and you can choose any kind of materials you like and not worry about their structure or whether it will stick together or not. The resistant glue allows you to use the material freely. This type of glue is best for metal jewelry.
Moreover, it is also long-lasting and durable. It is water and solvent resistant. Hence the glue increases the durability and reliability of your product making it very strong and impact-resistant.
The glue also offers a clear-finish allowing the product to be the center of attraction and making it much more attractive. If you are buying a glue that can resist impact we highly recommend that you consider Permatex.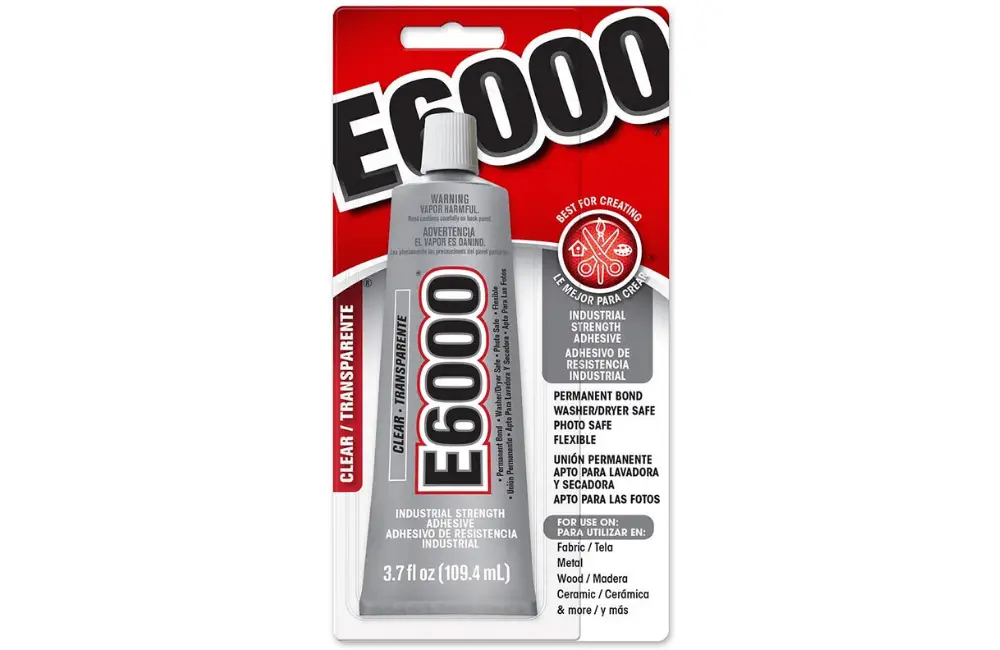 Why use E6000?
It can be painted

The glue is very strong
The E6000 is one of the strongest adhesives in the market. It can easily bond to glass, plastic, metal, and any kind of jewelry. You can also easily use any material for your art piece without worrying about it not staying together. The glue dries clear giving your jewelry a very clean and clear look.
Another thing that we love about this glue is that you can customize it according to your design because the glue can be easily painted. Moreover, the glue is temperature-resistant and it is non-flammable. The glue is so strong that it can easily work on jewelry as well.
This is also the best glue for metal jewelry. Many people believe that E-6000 is one of the best glues that you can use for making jewelry.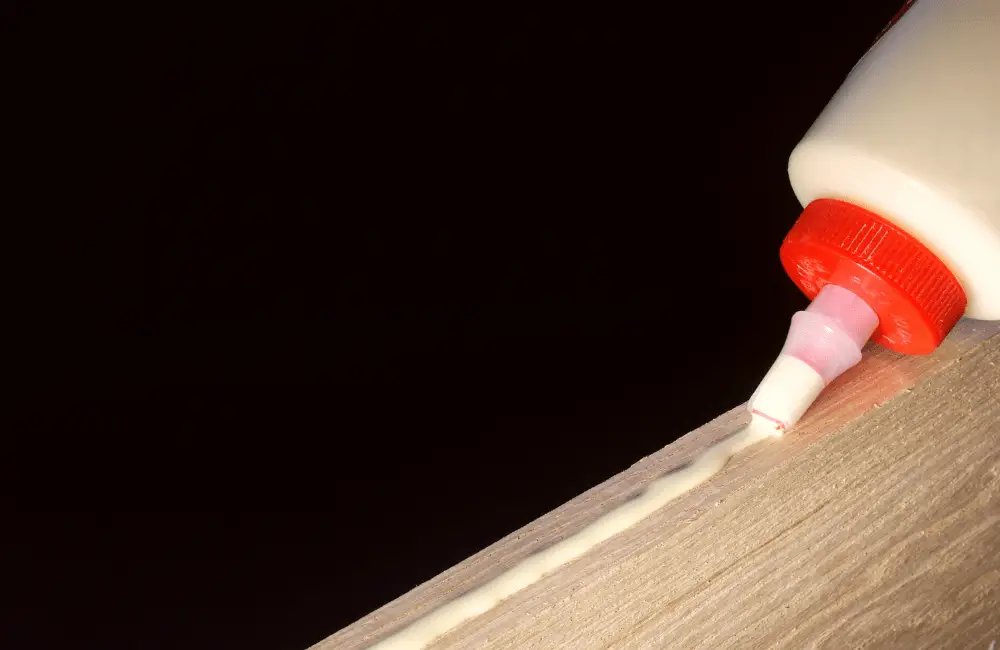 Some tips to use adhesives the correct way:
Working with fabric:
When creating jewelry you come up with a lot of ideas that include different types of fabrics and clothes. For this purpose, it is always best to use an adhesive that is waterproof so that you can easily wash the glue off if you are not satisfied with the design.
Flexibility 
One of the tips that we have for you is something that you should always consider before buying a jewelry item is that if you are creating a piece of jewelry that moves a lot it is best that you purchase a glue that is flexible. This will help your craft become more durable. When making this decision make sure that you use the best glue that we made for creating earrings and necklaces. 
A satisfying end product
One of the most satisfying things is that at the end of your hard work you get an attractive and unique piece of jewelry. Make sure that you purchase an adhesive that dries clear so that it doesn't ruin the look of your crafted masterpiece. This tip should also be considered when you are purchasing a glue for jewelry repair.
Buying the right adhesive can be a very difficult job to do. Hence to help you select the correct glue considering the process and the materials that you use when creating your showpiece we have created a list of the seven best glues in the market. All of the above-mentioned products are some of the best glues for jewelry.