Jewelry is not something that can be just left around the house, it is something that needs to be carefully protected.
Aside from its monetary value, jewelry sometimes also holds priceless sentimental value. Some items are considered heirlooms and are passed from generation to generation, whilst others are symbols of love and a life together.
For the protection of these irreplaceable, ornaments you need durable and strong safety.
These days there it's difficult to decide which one to get, fortunately, we have the perfect list of the absolute best jewelry safes on the market right now.
We are passionate about all sorts of things, from the healing effects of crystals to the effects they can have on our day to day lives. So be sure to check us out.
Best Jewelry Safes 2021:
Recommended article: How to cleanse your crystals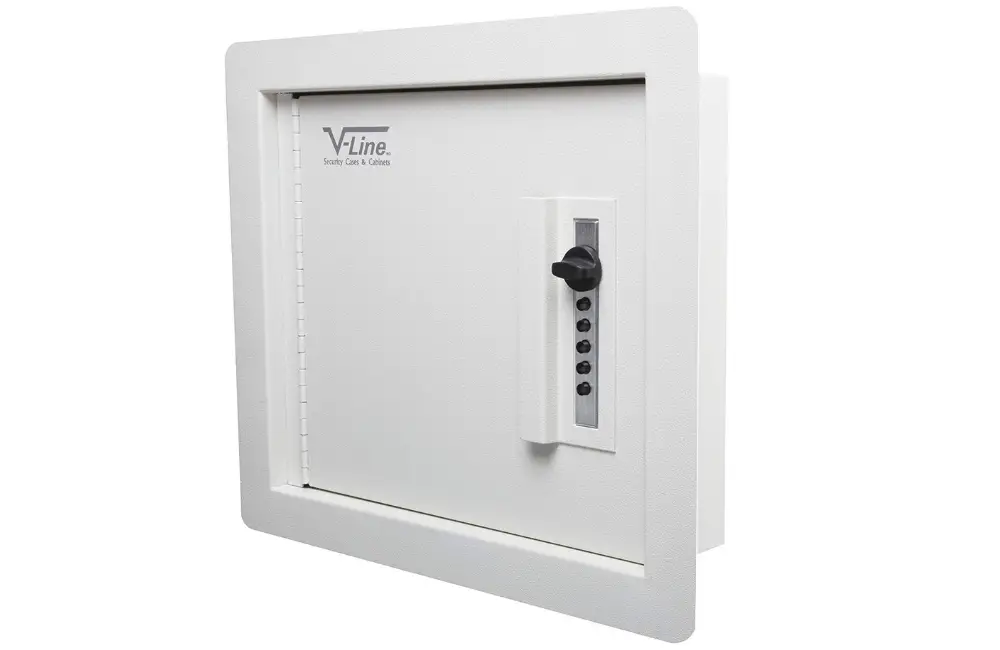 What we love:
Industrial strength steel, to ensure maximum protection
Flush mounted so that you can get that minimal look that you desire
Incorporated anti-theft technology
The first one on our list is the V-line wall-mounted safe. The safe comes in a flushed design, meaning that it can be easily installed in the wall without looking bulky, this will help you achieve that minimalist look you were going for. Aside from the design, the v-line also features amazing durability and antitheft designs.
For example, the anti-pry technology incorporated into the safe makes it is nearly impossible to pry the safe open.
On the front panel, the v-line features a numeric lock with over 1000+ possible combinations. It also comes with an adjustable shelf, what this means is that the shelf can be removed and placed in a different order, thus increasing the potential space within the safe. If you want to store a large jewelry box, then it won't be a problem for this amazing safe. Overall, the v-line is one of the best jewelry safes on the market right now.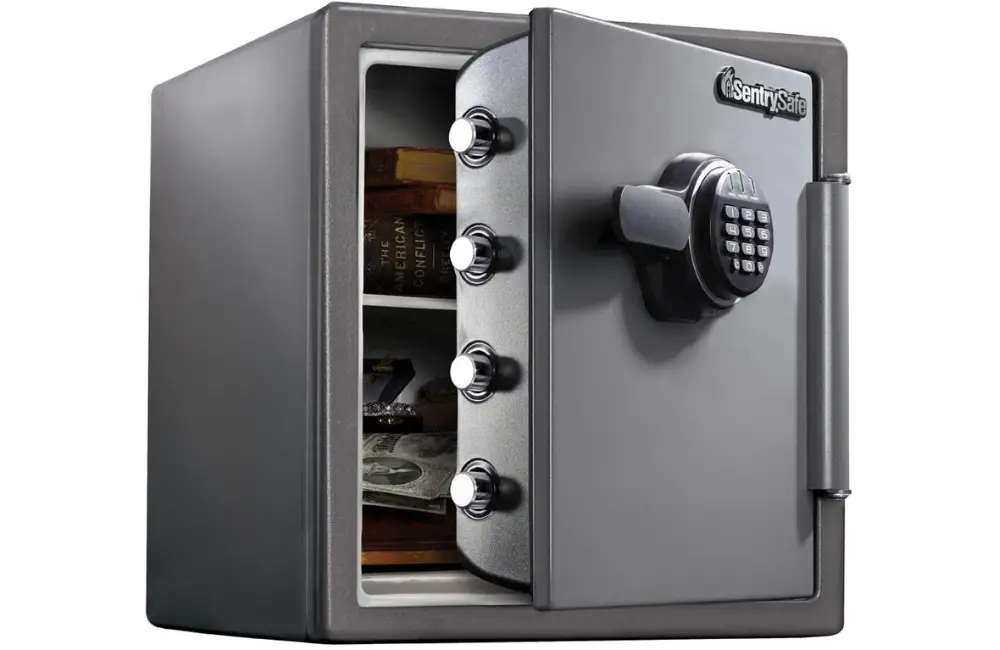 What We Love:
Packed to the brim with features
Stellar build quality and strength
Fireproof and impact resistant
The sentry safe packs all the features for a modern, super durable safe for all your prized possessions. The digital numeric lock ensures that only authorized individuals can access the contents of the safe, the 4, inch bars are sturdy enough to deter even the strongest of attacks. It features a state of the art pry restraint technology, the hinge is designed in such a way that prying is rendered impossible.
Aside from that it also features a super impressive fire-resistance rating, it has the ability to survive in 1700 degrees Fahrenheit for over an hour. If that's not enough the sentry safe is also drop resistant. In the unfortunate case of a fire, the safe can be dropped from a height of 15 feet. All these premium features make the sentry safe a great option for people who want a reliable and durable safe. It's definitely one of the best jewelry safes out there.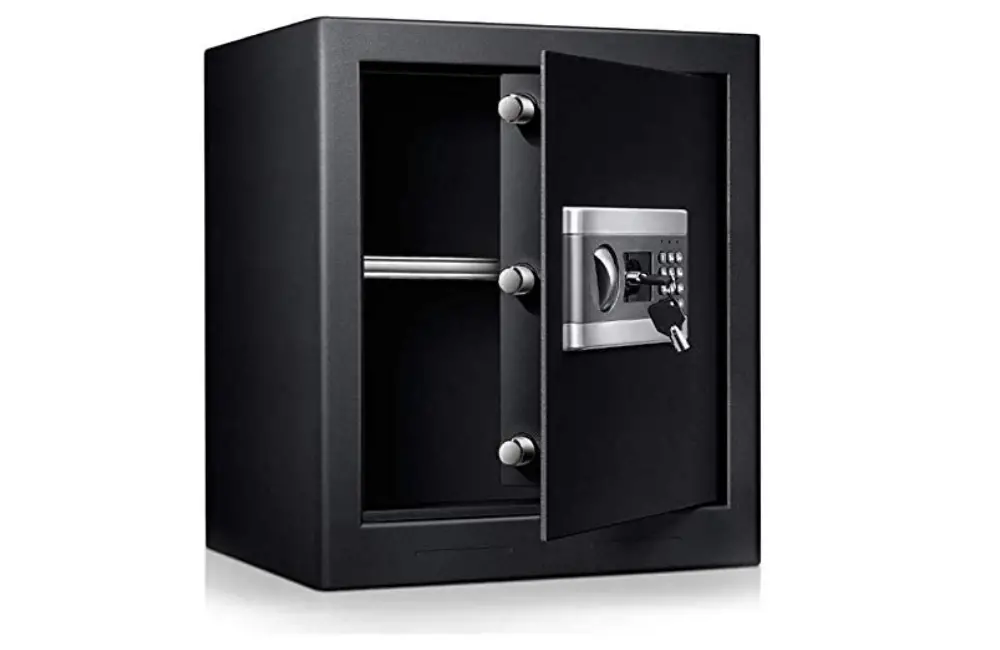 What We Love:
Strong and durable build quality
Resistant to water and fire
Offers a spacious 1.53 cub space to store all your belongings
If you want something that is a little bit larger than this is definitely the safe for you. The 1.53 cub space is enough for all your jewelry needs. When it comes to the security of the safe, the hukeor is a stellar performer. This premium quality safe uses two mechanisms for unlocking it, you can either unlock it using your emergency key and the master key, or you can use the numeric pad to enter your code.
With an all-steel build and three 22mm bolts, trying to brute force this lock would certainly be a failed attempt. One great and sometimes overlooked feature, when it comes to safes, is their fire resistance and water resistance capability.
A safe needs to withstand all of these disasters and still continue to protect your belongings. This safe has been built from the ground up to offer just that, with phenomenal fire and water resistance technology this safe is resilient to any change. If you're in the market for a large safe for your jewelry then this is certainly one of the best ones out there.
4
TIGERKING Digital Security Safe Box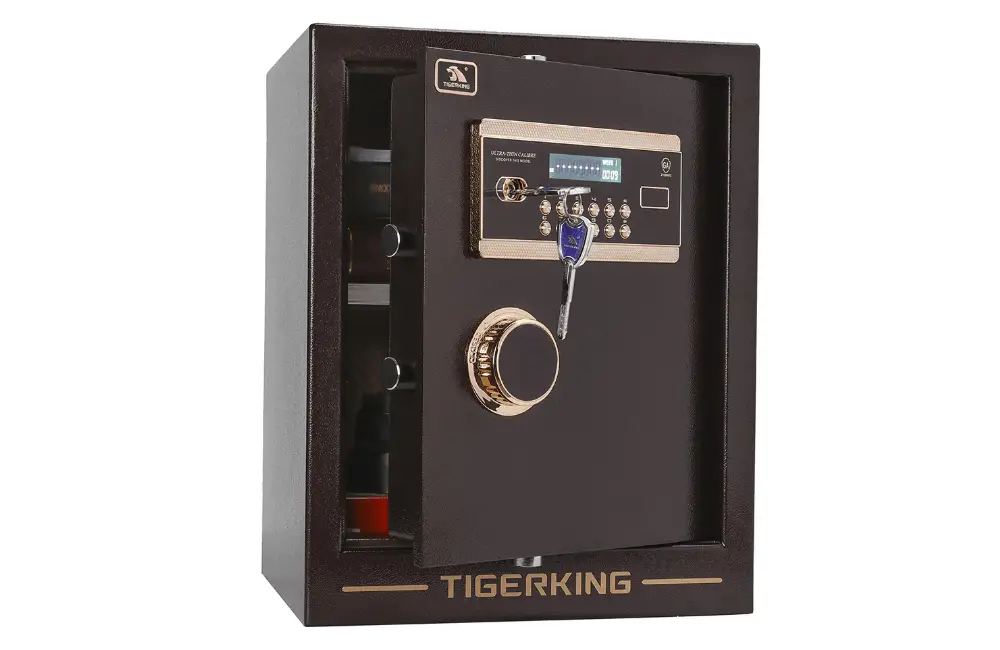 What We Love:
The design is unique and absolutely amazing
Great alarm systems
High-quality manufacturing and durable build
For a premium high quality safe, you have to take a look at the tiger king safe. Just the overall design and look of this safe is amazing. It beautifully showcases its premium nature. The gold-accented dial and numeric pad look amazing. But aside from the looks, the Tiger King is also packed to the brim with top-of-the-line features, like the ability to record when it was opened, an emergency lock, an internal light, and best of all the ability to store 2 passwords at the same time.
This can come in really handy if you forget your first one. The tiger king is also equipped with a sensitive alarm system, it not only starts the alarm in the case of a wrong input but also detects any anomalies in the vibration of its environments and reports it. Making this safe virtually impossible to rob. The all-steel design with the industrial-strength steel bolts makes this a very durable and reliable safe. Definitely worth considering.
5
Stalwart Digital Safe-Electronic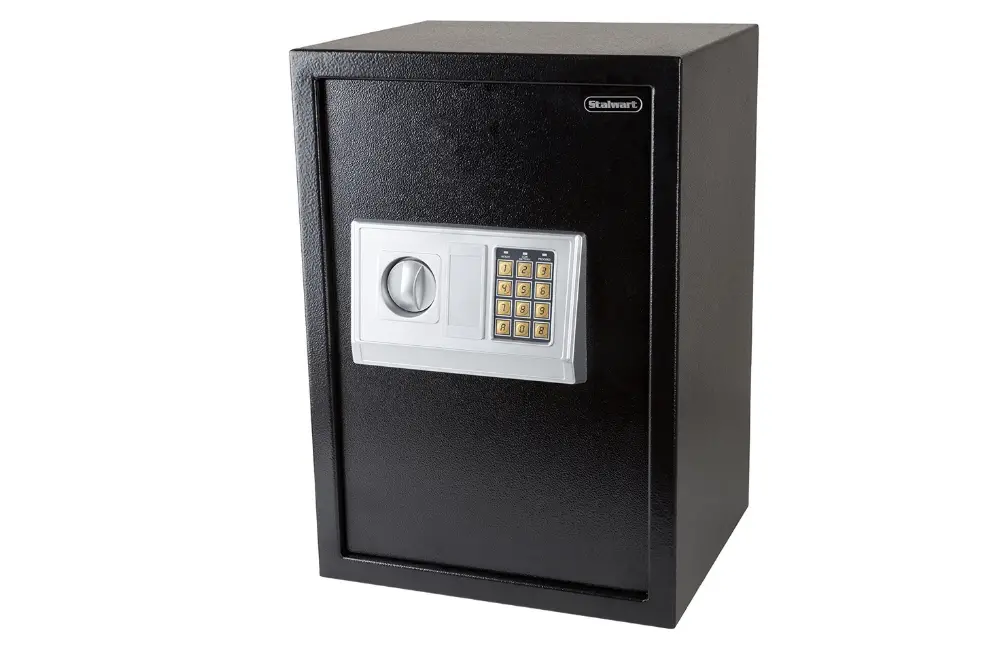 What We Love:
Super-spcaious interior
Superb alarm system
Durable design
The stalwart is another phenomenal safe to keep your jewelry in. The ultra-durable steel casing along with an amazing digital lock makes this safe super secure. The stalwart has a lot of fantastic features, but there is one in particular that really stands out. It is the gigantic size of the safe, it's large size could accommodate numerous boxes of jewelry sets.
Perfect for other items too, you could potentially keep a gun, digital media, important files, and other such items as well. The safe also comes with an auto alert feature, which is activated by 3 incorrect inputs in a row, if such a thing occurs then the alarm system will sound and alert you of a possible threat. It can also be wall-mounted if you like.
Overall the stalwart safe has all the necessary features for a great safe, one of the best jewelry safes out there.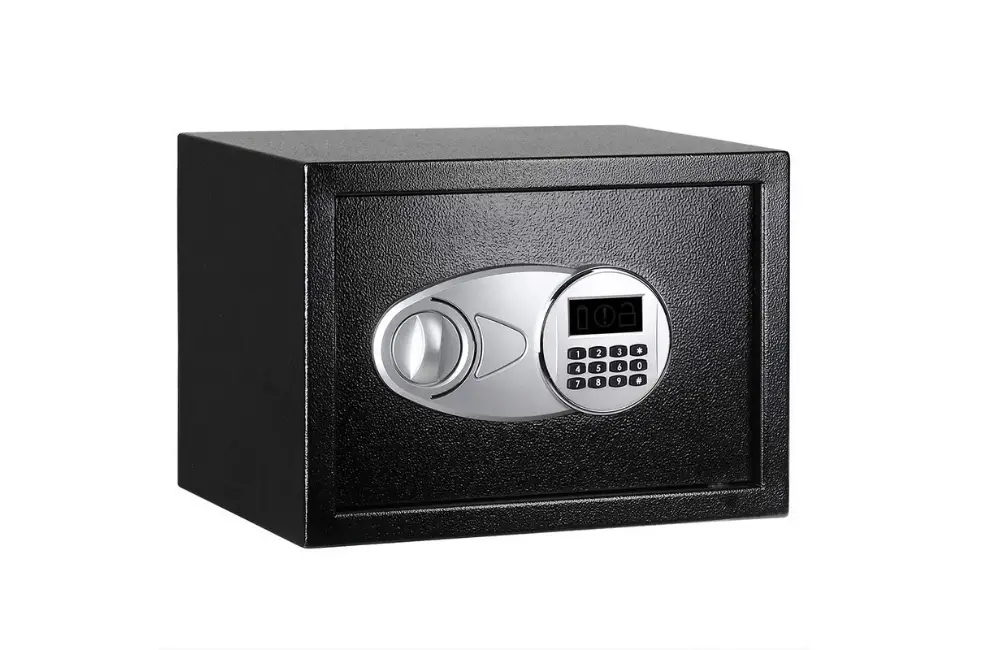 What We Love:
Great durability
Really reliable
Affordable price
If you want something basic, something that is tried and tested and has withstood these tests with constant success then you need the amazon basic safe. It is by no means the world's strongest or most advanced safe in the world. Instead, it's a simple safe, with a strong and durable build, a somewhat reasonable space inside, and a great digital lock.
The box is small but large enough to keep your jewelry, digital media, and even a few documents. It may not be fireproof but it surely has some phenomenal fire-resistant properties. The best part about the basics safe is that it's super affordable, if you're looking for a simple and small safe than the amazons basic is the best jewelry safe out there.
7
Honeywell Safes & Door Locks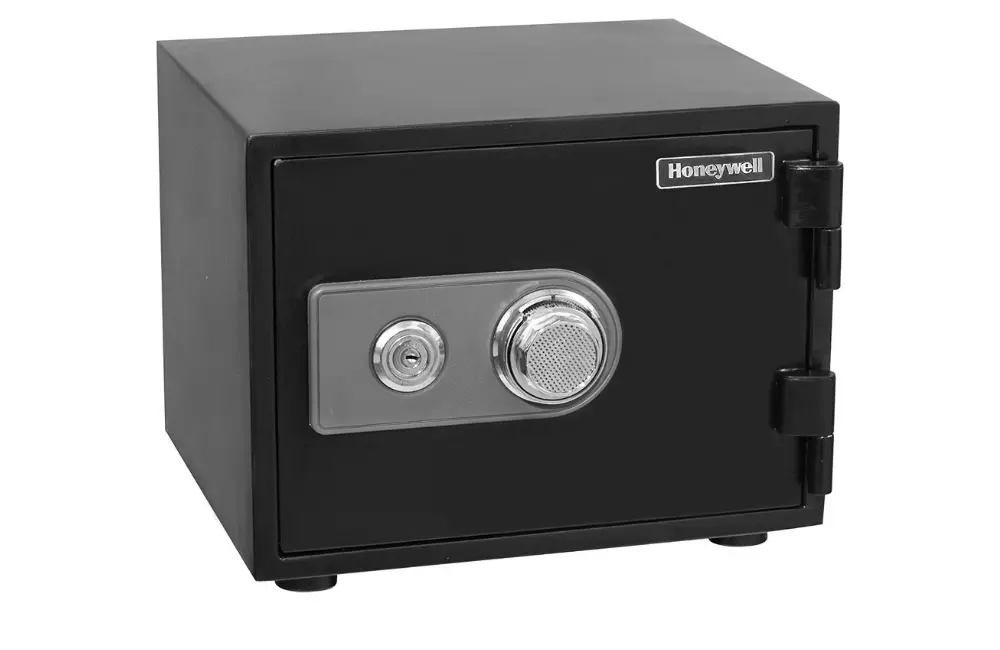 What We Love:
Amazing fire and water resistance
7 year limited warranty
Lifetime after-fire replacement
The honey safe is an all in one safe. What this means is that this safe encompasses all the latest and greatest features that are required in a modern and state of the art jewelry safe. It is both fire and water-resistant. These fire resistant safes are designed to withstand super hot temperatures for a sustained period of time, each safe is tested and the quality of which is verified.
This is a phenomenal feature for a safe, house fires are some of the worst accidents that can occur, and having a safe that can keep your valuables safe in such an incident is a lifesaver. Other than that they also come with an after-fire, replacement guarantee meaning that in the case of a fire if this safe burns then you'll get a replacement free of cost. Honeywell is a company that has built up its reputation by maintaining its superb quality and attention to detail. Making the Honeywell safe a reliable purchase.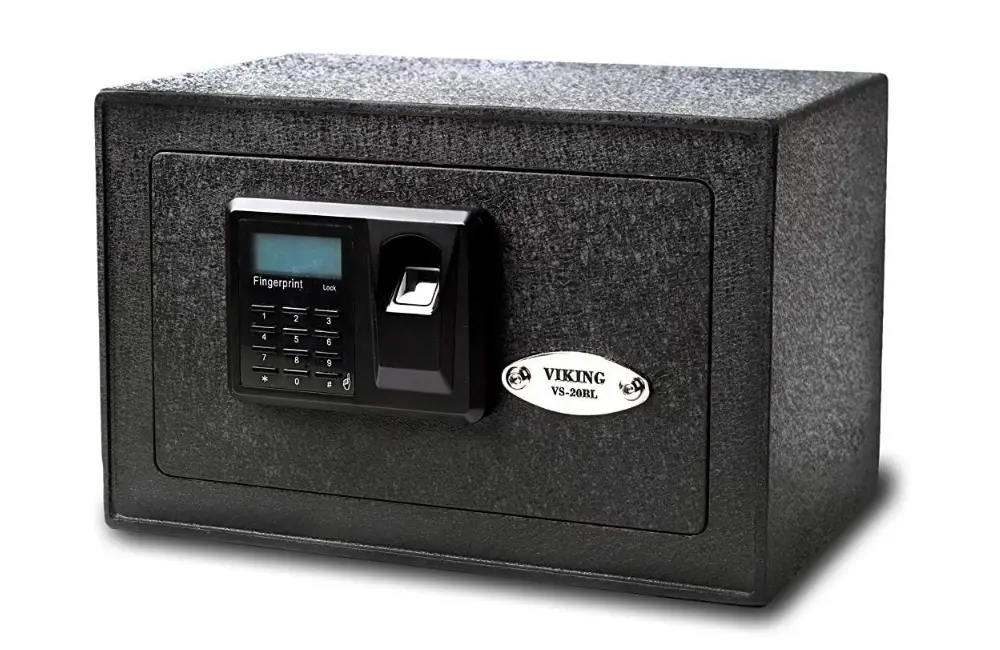 What We Love:
Textured design
Fast and accurate fingerprint reader
Robust and super durable build
If you're looking for extra security and the Viking security safe is the one to get. With a built-in fingerprint scanner, this safe can successfully store up to 32 different types of fingerprints. For some safes forgetting the password or losing your key can lead to some serious consequences.
Their safe may be permanently locked and contacting the manufacturer may be the only way. However, with the use of fingerprints, you'll never run into that problem. Other than that the Viking safe also features a top of the line build quality, made from premium steel with pry-resistant features. It's certainly one of the best safes for jewelry on the market right now.